CLOUET / MONDHARE - Carte d'Afrique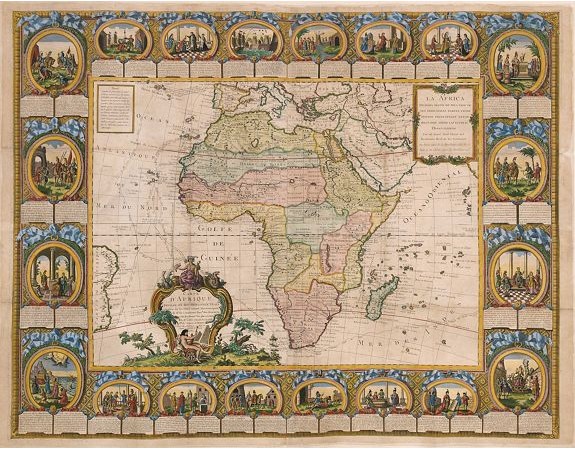 CLOUET / MONDHARE - Carte d'Afrique
Date: Paris, 1785
Size: 965 x 1230 mm.
Colouring: Coloured
Condition: Remounted on new cloth, a few tears repaired with minimal loss of image, fine colour. Text in French and Spanish.
Description
Rare. Uncommon and decorative "
carte à figures
"- wall map of Africa, prepared by Clouet. Surrounded with superb decoration, 170mm wide at the sides and 150mm at the bottom, including a wonderful rococo border with vignettes describing twenty vignette scenes from African history and myth. Among them the first commercial contacts of Europeans with inhabitants of Guinea. Discovering and Christianization in the Congo, Siege of Tripoli, the foundation of Carthage, the defeat of Hannibal by Scipio Africanus and conquests by the Greeks, Romans, Vandals and Turks. Each has a short text in French and Spanish.
Like most maps of this size, with some minor repairs and losses, but generally very good condition for a wall map.
Read more about
wall maps
[+]