DONNET et MONIN. - Département de l'Indre et Loire.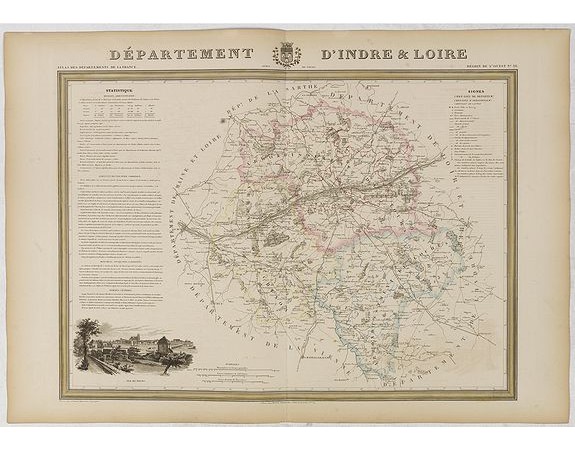 DONNET et MONIN. - Département de l'Indre et Loire.
Date: Paris, M. B. Dusillon, ca. 1841
Size: 480 x 675 mm.
Colouring: In original o/l colours.
Condition: Offset print. In excellent condition. A few small splits at folds - multi-folded as issued. Some clear adhesive residue on verso plan. It has been used to holt the spread of splits to folds.
Description
Perhaps one of the greatest cartographic feats of all time, this 1963 'bird's eye view' map of New York City was the first such produced for almost a century. Amazingly, the technique dates back to the 15th century, and was developed in Germany into a fully flowered cartographic art form called 'Vogelschaukarten' in Germany in the 1800s.
This particular map was prepared by Herman Bollmann for the 1964 New York World's Fair, where it was sold at information and tourist kiosks. In making the map in the 1950s, Herman Bollmann and his staff faced an almost insurmountable problem, how to show New York's many and densely concentrated skyscrapers from the same angle and relative height, while not obscuring most of the city behind them?

He and his team designed and built special cameras to take 67,000 photos, 17,000 from the air. Using these photos as a base, they then began to hand draw the entire city. Using special cartographic techniques, Bollmann and team managed to depict the smallest details while simultaneously conveying the city's soaring, vertical beauty.
You are placed in the position of an soaring bird, with this map spread out before you, you have the ability to look upon any part of the city at will, down to its smallest detail, without waiting for a camera to pan or zoom or cut. A remarkable city plan!
On the reverse is a sizeable plan of NYC, showing in great detail, Brooklyn, Queens, lower Manhattan, upper east and west sides, Central Park and the Bronx. You also see a portion of Staten Island. A great collectors item.