GREGOIRE, R. P. - Plan Géometral de la Ville de Lyon.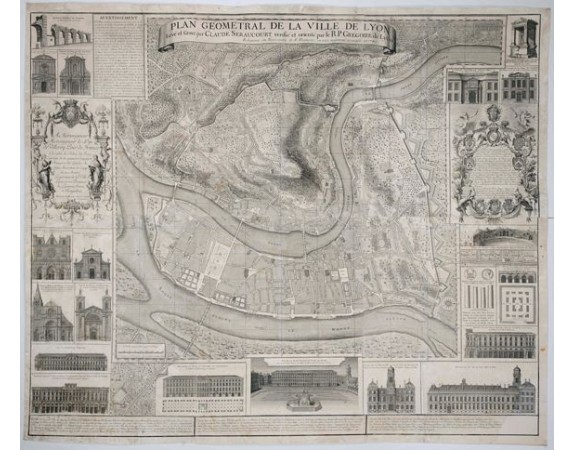 GREGOIRE, R. P. - Plan Géometral de la Ville de Lyon.
Date: Lyon, ca. 1740
Size: 1130 x 1370 mm.
Colouring: Uncoloured.
Condition: On six joined sheets. Lower right hand corner teared off and reinstalled, missing parts partly redrawn. Small repaired hole in center. Generally in very good condition for a wall map of this size. dark impression.
Description
A gigantic wall map of Lyon originally issued in 1735 and revised in 1740. Engraved by Claude Seracourt and published by R.P. Grégoire in Lyon, France in 1740.
This is the revised 1740 edition.
Oriented to the east, this map centers on the convergence of the Rhone and Saone Rivers and the peninsula, thus formed.
It covers modern day Lyon's 1st and 2nd
arrondissements
as well as significant portions of the 4th and 5th.
The plan is surrounded by illustrations depicting Lyon's most noteworthy architecture and monuments, as well as two rococo windows with dedications to the Duc de Villeroy and various others.
The main difference between the two editions lies in the elimination of the rue Serpilière which extended from rue Confort to the Rhône along the Hôtel-Dieu. Around 1737, the rectors of the General Hospital obtained from the consulate the power to reunite the two parts of their tenement separated by this street, on the condition of creating a water point for fires.
Note
Extra shipping costs apply due to size. Please contact before bidding.