MEULEN, A. F. van der. - Veuë de la Ville de Gray en Franche Comté.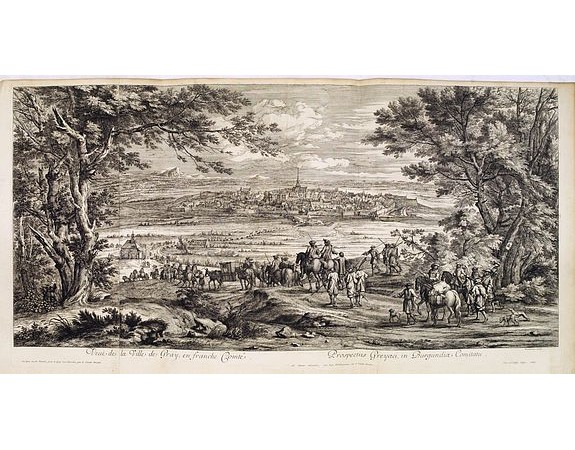 MEULEN, A. F. van der. - Veuë de la Ville de Gray en Franche Comté.
Date: Paris, ca. 1680
Size: 510 x 990 mm.
Colouring: Uncoloured.
Condition: Belle impression. Bel exemplaire.
Description
Vue représentant la ville de Gray pendant la "Guerre de Hollande". Gravée par Baudouins d'après F. Van der Meulen. "Peintre baroque flamand", Adam Frans van der Meulen (1632-1690) se spécialisa dans les paysages et les scènes de bataille.
Baptisé le 11 janvier 1632 à Bruxelles, dans les Pays-Bas espagnols, Adam Frans van der Meulen se forme dès 1648 auprès du peintre de batailles Pieter Snayers, issu de l'école flamande. Vers 1664, le ministre des Finances Colbert le fait venir à Paris, à la demande de Charles Le Brun, pour l'employer en tant que paysagiste aux Gobelins, avant de lui confier la charge de « peintre des conquêtes du Roi » Louis XIV. Les toiles d'une exactitude minutieuse que réalise van der Meulen lors des campagnes de Flandre, en Franche-Comté et en Hollande durant la guerre de Dévolution de 1667-1668, plaisent tant au Roi-Soleil que ce dernier lui ordonne à partir de cette date de l'accompagner dans toutes ses opérations militaires. Il exécute de nombreux croquis, vues de villes et paysages.

- Showing the town of Gray. Etching by Baudoins after Adam Frans van der Meulen (1632-1690) who was a Flemish Baroque painter specialising in battle scenes. He was active first in Brussels, where he was a pupil of Pieter Snayers, and from the 1660s onwards in Paris.
His paintings during the campaigns of Flanders in 1667 so delighted Louis that from that date van der Meulen was ordered to accompany him in all his expeditions. In 1673 he was received into the Académie royale de peinture et de sculpture, attained the grade of councillor in 1681, and died full of honors in Paris in 1690.