SALMON, Th. - Hedendaegsche historie, of tegenwoordige staet van alle volkeren; in opzigte hunner landsgelegenheit, personen, klederen, gebouwen, zeden, wetten, gewoontens, godsdienst, regering, konsten en wetenschappen, koophandel, handwerken, landbouw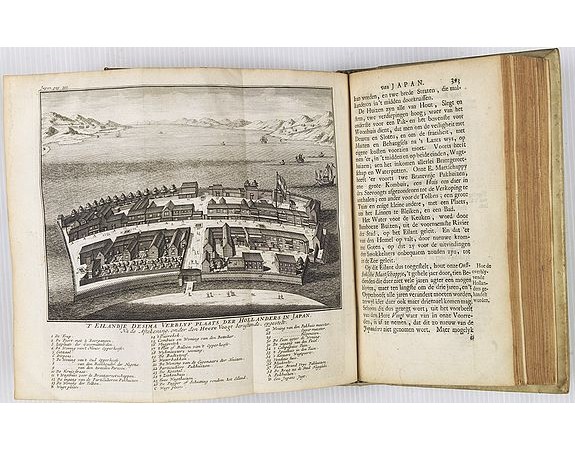 SALMON, Th. - Hedendaegsche historie, of tegenwoordige staet van alle volkeren; in opzigte hunner landsgelegenheit, personen, klederen, gebouwen, zeden, wetten, gewoontens, godsdienst, regering, konsten en wetenschappen, koophandel, handwerken, landbouw
Date: Amsterdam, 1729
Size: 200 x 125 mm.
Colouring: Uncoloured.
Condition: Contemp. vellum. 645pp., 17pp. Register, 2pp.printing errata. Illustrated with 2 folding maps, 4 plates including one of Japanese people 1 folding view of Deshima.
Description
This provides an interesting illustrated description of China, Japan, Phillippines, Moluccas. Including a map of China, Korea and Japan, with the Sea between Korea and Japan called "Zee van Japan" and "Noord Zee van Japan".
The map of Japan provided by Kaempfer and copied by Isaac Tirion.
Cordier indicates that the first edition of this work in Italian was in 1738 and the date 1734 on the title page throws the sequence of Tirion's maps into some confusion.
With folding map of Japan and the Philippines. The bird's-eye view of Deshima is also most interesting, being copied from a manuscript by Vogue, who was second-in-command on Deshima in 1713. The island is viewed from the landside, depicting the developments of the new warehouses and the garden as well as the famous speelhuis which contained a billiard table and musical instruments on the upper floor.
Very good condition.