SOCIETE FRANçAISE DE JEUX ET JOUETS - Le Tour du Monde en 80 jours d'apres Jules Vernes.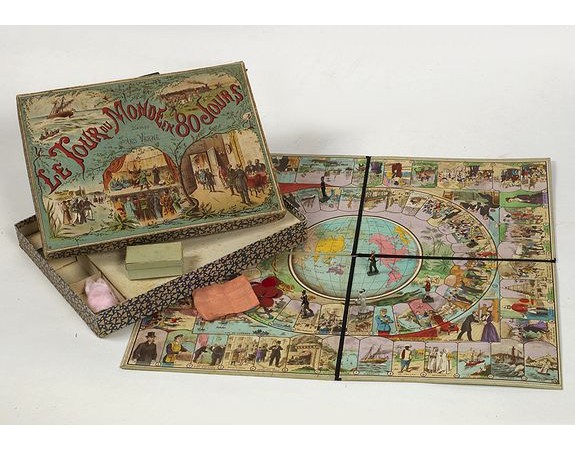 SOCIETE FRANçAISE DE JEUX ET JOUETS - Le Tour du Monde en 80 jours d'apres Jules Vernes.
Date: Paris, ca. 1915
Size: 335 x 257 mm.
Colouring: Colour printed.
Condition: In good condition. Lithographed game board with pochoir and hand colour, in the original box (257x335x40mm.), with 6 painted lead figures and tokens.
Description
Goose game. World tour in 80 days according to Jules Verne's novel.
Cardboard game box, with chromolithographed title plate, size 257 x 335 x 40mm, containing a tray, chromolithographed game board, folded twice (in quarters) illustrated in colour (size 485 x 550 mm.), 6 painted lead characters , a canvas bag containing tokens (reconstructed) of several colours and a rule of game glued to the back of the lid.

Vignette illustrations numbered from 1 to 80, captioned in French and arranged counter clockwise, encircle a representation of a world globe and jungle background.
The game block illustrates the Statue of Liberty in New York Harbour (dedicated in 1886 many years after Verne's 1872 book). Other sites in America illustrated in game blocks include a view of Chicago streets, and cable cars in San Francisco. The diverse illustrations also include a Japanese juggler and the Suez Canal (opened in 1869). Singapore, Hong-Kong, Calcutta, Bombay, etc.
The first two numbered blocks on the game board depict Phileas Fogg (identified as "Phileas Phogg") and his French assistant, Jean Passepartout, as they leave London.
The final four "blocks" are the corner areas in between the smaller illustrations, in numbers 79 and 80 Fogg, upon his return to the Reform Club in London, points to a clock to emphasize that he's returned on time, and meets his fellow members to collect his winnings.
The illustration numbered 77 bears the monogram "JFJ" of the manufacturer, the Société des Jeux et Jouets Français, a consortium of French game manufacturers active between 1904 and 1931.

The 6 lead game pieces for this board game, are 3 dimensional representations of some of the major characters of the novel: Phileas Fogg, Jean Passepartout, Miss Aouda, Detective Fix, Brigadier General Sir Francis Cromarty (accompanied Fogg in India), Captain Andrew Speedy (Captain of the steamship Henrietta).

Set in Victorian England, Verne's novel tells the story of adventurer Phileas Fogg, who bets fellow members of the Reform Club in London that he could make a round-the-world trip in record time.

Provenance : Eric André Weissenberg collection, which has been preserved at the Weissenberg Museum.
Eric André Weissenberg, born in Agen, France on March 11, 1941 and died in Geneva on October 30, 2012, is a Swiss vernien collector.
He is one of the most prolific authors of articles for the Bulletin of the Jules Verne Society (BSJV). From collections of editions of cartoons, mainly from Hetzel, which he accumulated throughout his life, he became a recognized specialist in the particular characteristics of the Hetzel volumes and for many years held the section of the collector of the BSJV. He also participates in the collection of Philippe Jauzac Jules Verne - Hetzel and cartonnages illustrated, published by the editions of the Amateur and is the author of Jules Verne: A fabulous universe (Favre, 2004) where he exhibits of many unpublished documents from its collections.

In addition, Eric Weissenberg was also a collector of documents related to the Holocaust.

Interesting readings : "Les Editeurs Français de Jeux 1850-1950." Jouet Mag! No. 13. Moirans-en-Montagne: Musée du Jouet, p. 7. 10 December 2010. Online at http://www.musee-du-jouet.com/jouetmag/edjeux.doc (26 August 2011).
Mellby, Julie L. "Around the World or Around the Board." Graphic Arts Collection, Princeton University Library. 6 January 2011.
Nash, Andrew. "Tour du Monde en 80 Jours Board Game (ca. 1915) Details." Jules Verne Collecting. 2011.
Sinoquet, Bernard. "Re: Le tour du Monde, game from 1915." Jules Verne Forum. 10 March 2011.