FAMOUS MAPMAKERS
GEMMA FRISIUS (REINER/REGNERUS) 1508-55
Of German extraction, Gemma Frisius became the foremost astronomer, mathematician and surveyor of his time. He was an influential figure, not Only for his teaching of Mercator at his School of Geography at Louvain but for his scientific contributions to practical aspects of cartography. He invented an improved form of cross-staff for astronomical use and in his book A Method of delineating places he set out the principle of triangulation in map making. Later, he was the first to suggest the use. of portable clocks to determine longitude.
GERARD MERCATOR (KREMER) 1512-94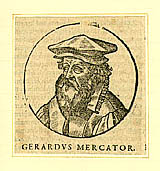 For nearly sixty years, during the most important and exciting period in the story of modern map making, Gerard Mercator was the supreme cartographer, his name, second only to Ptolemy, synonymous with the form of map projection still in use today. Although not the inventor of this type of projection he was the first to apply it to navigational charts in such a form that compass bearings could be plotted on charts in straight lines, thereby providing seamen with a solution to an age-old problem of navigation at sea. His influence transformed land surveying and his researches and calculations led him to break away from Ptolemy's conception of the size and outline of the Continents, drastically reducing the longitudinal length of Europe and Asia and altering the shape of the Old World as visualized in the early sixteenth century.
Mercator was born in Rupelmonde in Flanders and studied in Louvain under Gemma Frisius, Dutch writer, astronomer and mathematician. He established himself there as a cartographer and instrument and globe maker, and when he was twenty-five drew and engraved his first map (of Palestine) and went on to produce a map of Flanders (1540) supervising the surveying and completing the drafting and engraving himself. The excellence of his work brought him the patronage of Charles V for whom he constructed a globe, but in spite of his favor with the Emperor he was caught up in the persecution of Lutheran Protestants and charged with heresy, fortunately without serious consequences. No doubt the fear of further persecution influenced his move in 1552 to Duisburg, where he continued the production of maps, globes and instruments culminating in large-scale maps of Europe (1554), the British Isles (1564) and the famous World Map on 18 sheets drawn to his new projection (1569). All these early maps are exceedingly rare, some being known by only one copy.
In later life he devoted himself to his edition of the maps in Ptolemy's Geographia, reproduced in his own engraving as nearly as possible in their original form, and to the preparation of his 3-volume collection of maps to which, for the first time, the word 'Atlas' was applied. The word was chosen, he wrote, 'to honour the Titan, Atlas, King of Mauritania, a learned philosopher, mathematician, and astronomer'. The first two parts of the Atlas were published in 1585 and 1589 and the third, with the first two making a complete edition, in 1595 the year after Mercator's death.
Mercator's sons and grandsons, named above, were all cartographers and made their contributions in various ways to the great atlas. Rumold, in particular, was responsible for the complete edition in 1595. After a second complete edition in 1602, the map plates were bought in 1604 by Jodocus Hondius who, with his sons, Jodocus II and Henricus, published enlarged editions, which dominated the map market for the following twenty to thirty years.
GERARD DE JODE c. 1509-91 - CORNELIS DE JODE (son) 1568-1600
Gerard de Jode, born in Nijmegen, was a cartographer, engraver, printer and publisher in Antwerp, issuing maps from 1555 more or less in the same period as Ortelius. He was never able to offer very serious competition to his more businesslike rival although, ironically, he published Ortelius's famous 8-sheet World Map in 1564. His major atlas, now extremely rare, could not be published until 1578, eight years after the Theatrum, Ortelius having obtained a monopoly for that period. The enlarged re-issue by his son in 1593 is more frequently found. On the death of Cornelis, the copper plates passed to J. B. Vrients (who bought the Ortelius plates about the same time) and apparently no further issue of the atlas was published: however, at least one further issue of the Polar Map, c.1618, is known.
ABRAHAM ORTELIUS 1528-98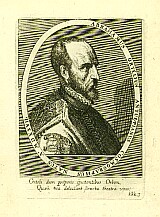 Abraham Ortel, better known as Ortelius, was born in Antwerp and after studying Greek, Latin and mathematics set up business there with his sister, as a book dealer and 'painter of maps'. Travelling widely, especially to the great book fairs, his business prospered and he established contacts with the literati in many lands. On one such visit to England, possibly seeking temporary refuge from religious persecution, he met William Camden whom he is said to have encouraged in the production of the Britannia.
A turning-point in his career was reached in 1564 with the publication of a World Map in eight sheets of which only one copy is known: other individual maps followed and then - at the suggestion of a friend - he gathered together a collection of maps from contacts among European cartographers and had them engraved in uniform size and issued in 1570 as the Theatrum Orbis Terrarum (Atlas of the Whole World). Although Lafreri and others in Italy had published collections of 'modern' maps in book form in earlier years, the Theatrum was the first uniformly sized, systematic collection of maps and hence can be called the first atlas, although that term itself was not used until twenty years later by Mercator.
The Theatrum, with most of its maps elegantly engraved by Frans Hogenberg, was an instant success and appeared in numerous editions in different languages including addenda issued from time to time incorporating the latest contemporary knowledge and discoveries. The final edition appeared in 1612. Unlike many of his contemporaries Ortelius noted his sources of information and in the first edition acknowledgement was made to eighty-seven different cartographers.
Apart from the modern maps in his major atlas, Ortelius himself compiled a series of historical maps known as the Parergon Theatri which appeared from 1579 onwards, sometimes as a separate publication and sometimes incorporated in the Theatrum.
1570 Theatrum Orbis Terrarum 1570-1612 Between these years the Theatrum was re-issued in 42 editions with 5 supplements with text in Latin, Dutch, German, French, Spanish, Italian and English. The English edition was published in 1606 by John Norton, the maps being printed in Antwerp and the text added in London. Three years after Ortelius died in 1598, his heirs transferred publication rights to Jan Baptiste Vrients who produced the later editions until he died in 1612
1577-85 Spiegel der Werelt (8vo) Maps from the Theatrum, reduced in size, engraved by Philip Galle: text by Pieter Heyns. 6 editions with Dutch, French and Latin text. 1588-i 603 Epitome theatri orbis terrarum (12mo
/8v0) 11 further editions of the smaller maps with an increasing number of maps with text also in Italian and English (1603). i6oi-i 2 7 further editions with improved engravings by Arsenius Brothers: text by Michel Coignet in Latin, French, German, Italian and English (1603). 1598-1724 Theatro del Mondo (4t0/12mo/24mo) 8 editions with Italian text; plates engraved in Italy.
1579-1606 Parergon Theatri The number of maps included in the Parergon increased from 4 in 1579 to 43 in 1606 with text in Latin, French, Italian, German and English (1606) 1624 Re-issued in Antwerp as a separate publication by Balthasar Moretus. This edition included a reproduction of the Peutinger table.
LUCAS JANSZOON WAGHENAER 1534-98
By the third quarter of the sixteenth century an ever-increasing volume of the wealth of the New World and the Indies was reaching Lisbon and the Spanish ports, there to be trans-shipped to Northern and Western Europe. This trade was almost entirely in the hands of the Dutch so it was logical that one of their pilots should produce the first set of effective navigational charts. These were compiled under the title Spiegel der Zeevaerdt, by Lucas Janszoon Waghenaer, a native of Enkhuizen on the Zuider Zee, an experienced seaman and pilot. His magnificently produced charts embodying all the latest contemporary knowledge of navigation and position-finding set a standard which was followed by others for the next century or more -indeed, some of the symbols employed are still in use today. The charts in the first edition, covering the coast lines from Holland to Spain and the North Sea and Baltic, were engraved by the van Doetecum brothers and printed by Plantin: those in the English edition, which was translated by Sir Anthony Ashley and issued in 1588 - the year of the Armada - were engraved by de Bry, Hondius, Rutlinger and Ryther, who also engraved some of Saxton's maps. The charts are extremely picturesque with elaborate cartouches, ships in full sail and the sea monsters so commonly used as decoration in maps of the period. Place names are given on the coasts but comparatively few are shown inland; cliffs on the coastline are drawn in elevation; navigational landmarks and hazards, anchorages, soundings and tidal details are indicated and the scale is shown in English, Spanish and Dutch leagues. Altogether some of the most handsome maps ever produced.
The charts became so universally popular that their name, anglicized to 'Waggoner', came into use in English as a generic term for sea charts of all kinds.
JODOCUS HONDIUS 1563-1612 - HENRICUS HONDIUS (son) 1587-1638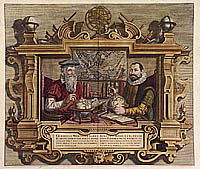 Jodocus Hondius, one of the most notable engravers of his time, is known for his work in association with many of the cartographers and publishers prominent at the end of the sixteenth and the beginning of the seventeenth century.
A native of Flanders, he grew up in Ghent, apprenticed as an instrument and globe maker and map engraver. In 1584, to escape the religious troubles sweeping the Low Countries at that time, he fled to London where he spent some years before finally settling in Amsterdam about 1593. In the London period he came into contact with the leading scientists and geographers of the day and engraved maps in The Mariner's Mirrour, the English edition of Waghenaer's Sea Atlas, as well as others with Pieter van den Keere, his brother-in-law. No doubt his temporary exile in London stood him in good stead, earning him an international reputation, for it could have been no accident that Speed chose Hondius to engrave the plates for the maps in The Theatre of the Empire of Great Britaine in the years between 1605 and 1610.
In 1604 Hondius bought the plates of Mercator's Atlas which, in spite of its excellence, had not competed successfully with the continuing demand for the Ortelius Theatrum Orbis Terrarum. To meet this competition Hondius added about 40 maps to Mercator's original number and from 1 6o6 published enlarged editions in many languages, still under Mercator's name but with his own name as publisher. These atlases have become known as the Mercator/Hondius series. The following year the maps were reengraved in miniature form and issued as a pocket Atlas Minor. After the death of Jodocus Hondius the Elder in 1612, work on the two atlases, folio and miniature was carried on by his widow and sons, Jodocus II and Henricus, and eventually in conjunction with Jan Jansson in Amsterdam. In all, from 1606 onwards, nearly 50 editions with increasing numbers of maps with texts in the main European languages were printed. Summaries of these issues are given under the entry for Gerard Mercator.
PETRUS PLANCIUS 1552-1622
Plancius was a theologian and minister of the Dutch Reformed Church who fled with many of his compatriots from religious persecution in Flanders to settle in Amsterdam in 1585. There he became interested in navigation and cartography and, being fortunate enough to have access to nautical charts recently brought from Portugal, he was soon recognized as an expert on the shipping routes to India. He was interested, too, in the idea of a North East passage until the failure of Willem Barentsz's third voyage in 1597 seemed to preclude the possibility of such a route. In 1602 he was appointed cartographer to the new Dutch East India Company.
Although Plancius produced no atlases his individual maps and charts, over 100 in all, exercised much influence on the work of other cartographers at the turn of the century. His very large wall map of the world dated 1592 was of particular significance.
PIETER VAN DEN KEERE (PETRUS KAERIUS) 1571-c. 1646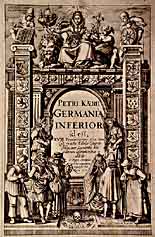 Pieter van den Keere was one of a number of refugees who fled from religious persecution in the Low Countries between the years 1570 and 1 590. He moved to London in 1584 with his sister who married Jodocus Hondius, also a refugee there, and through Hondius he undoubtedly learned his skills as an engraver and cartographer. In the course of a long working life he engraved a large number of individual maps for prominent cartographers of the day but he also produced an Atlas of the Netherlands (1617-22) and county maps of the British Isles which have become known as Miniature Speeds, a misnomer which calls for some explanation.
In about 1599 he engraved plates for 44 maps of the English and Welsh counties, the regions of Scotland and the Irish provinces. The English maps were based on Saxton, the Scottish on Ortelius and the Irish on the famous map by Boazio. These maps were not published at once in book form but there is evidence which suggests a date of issue (in Amsterdam) between 1605 and 1610 although at least one authority believes they existed only in proof form until 1617 when Willem Blaeu issued them with a Latin edition of Camden's Britannia. At this stage two maps were added, one of the British Isles and the other of Yorkshire, the latter derived from Saxton. To confuse things further the title page of this edition is signed 'Guilielmus noster Janssonius', which is the Latinized form of Blaeu's name commonly used up to 1619.
At some time after this the plates came into the possession of Speed's publishers, George Humble, who in 1627, the year in which he published a major edition of Speed's Atlas, also issued the Keere maps as a pocket edition. For these he used the descriptive texts of the larger Speed maps and thereafter they were known as Miniature Speeds. In fact, of the 63 maps in the Atlas, 40 were from the original van den Keere plates, reworked, 16 were reduced from Speed and 7 were additional. The publication was very popular and there were further re-issues up to 1676.
WILLEM BARENT5Z (BARENTZOON) c. 1560-97
Barentsz was a noted pilot who was convinced by the theorists of the day that it was possible to reach China and India via a NorthEast passage through the Arctic. On his first voyage in 1594 accompanied by Jan van Linschoten he reached Novaya Zemlya but was forced back by ice: he failed again the following year. On his third voyage in 1596-97 his ship was trapped in pack ice and, although many of his crew survived in open boats, Barentsz himself died on the return voyage. He is noted for this chart book of the Mediterranean, the first of its kind, which was complementary to Waghenaer's charts of the Atlantic coasts, and which is sometimes found bound up with the later editions of Waghenaer.
JAN HUYGEN VAN LINSCHOTEN 1563-1610
Van Linschoten, born in Haarlem, is heard of in the service of the Portuguese Archbishop of Goa where he spent five years between 1583 and 1588. On his return to Holland he produced a History of his travels, important for the inclusion of maps from Portuguese sources, at that time rarely available to Dutch - or any other - cartographers. The maps (including a world map by Petrus Plancius) engraved by van Langren, are highly decorative with large cartouches, the arms of Portugal, compass roses, rhumb lines and sea monsters. Some are illustrated with views of prominent places or islands.
JAN BAPTIST VRIENTS 1552-1612
Vrients was the map engraver and publisher in Antwerp who, after the death of Ortelius in 1598, acquired the publication rights of the Theatrum. Between 1601 and 1612 he issued a number of editions which included some of his own maps and he was responsible for printing the maps for the English edition in 1606. He also published a number of important individual maps and a small atlas of the Netherlands.
CORNELIS WYTFLIET fl. 1597
Little is known of Wytfliet except that he was a native of Brabant, but there is no doubt about the importance of his only atlas, which was the first one printed to deal exclusively with America. Although its title indicated it to be a 'supplement to Ptolemy', Part 1 covered the history of the discovery of America and its geography and natural history and Part II consisted entirely of contemporary maps of America and a world map based on Mercator.
BARENT LANGENES fl. 1598-1610
Langenes was a publisher in Middelburg about whom little is known except that he was probably the author of the text and publisher of the first edition of a very well known miniature atlas, the Caert Thresoor. After an uneasy start - some maps were missing from the first edition - the atlas acquired new life in Amsterdam with a re-written text and eventually with re-engraved maps which prolonged its use and popularity for about half a century.
PETRUS BERTIUS (BERT) 1565-1629
Petrus Bertius grew up in Beveren in Flanders and as a young man travelled widely in Europe. In company with so many of his compatriots he moved to Amsterdam as a refugee from religious persecution and after completing his studies there he was appointed a professor of mathematics and librarian at Leyden University. As well as being a prolific writer on mathematical, historical and theological subjects he is known as a cartographer for his editions of Ptolemy's Geographia (based on Mercator's edition of 1578) and for the miniature atlases detailed below. In i6i8 he moved to Paris and became Official Cosmographer to Louis XIII. He was related by marriage to Jodocus Hondius and Pieter van den Keere.
WILLEM JANSZOON BLAEU 1571-1638 - JOAN BLAEU (son) 1596-1673 - CORNELIS BLAEU (son) d. c. 1642
At the beginning of the seventeenth century Amsterdam was becoming one of the wealthiest trading cities in Europe, the base of the Dutch East India Company and a centre of banking and the diamond trade, its people noted for their intellectual skills and splendid craftsmanship.
At this propitious time in the history of the Northern Provinces, Willem Janszoon Blaeu, who was born at Alkmaar in 1571 and trained in astronomy and the sciences by Tycho Brahe, the celebrated Danish astronomer, founded a business in Amsterdam in 1599 as a globe and instrument maker. It was not long before the business expanded, publishing maps, topographical works and books of sea charts as well as constructing globes. His most notable early work was a map of Holland (1604), a fine World Map (1605-06) and Het Licht der Zeevaerdt (The Light of Navigation), a marine atlas, which went through many editions in different languages and under a variety of titles. At the same time Blaeu was planning a major atlas intended to include the most up-to-date maps of the whole of the known world but progress on so vast a project was slow and not until he bought between 30 and 40 plates of the Mercator Atlas from Jodocus Hondius II to add to his own collection was he able to publish, in 1630, a 60-map volume with the title Atlantis Appendix. It was another five years before the first two volumes of his planned world atlas, Atlas Novus or the Theatrum Orbis Terrarum were issued. About this time he was appointed Hydrographer to the East India Company.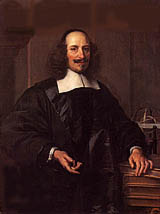 In 1638 Blaeu died and the business passed into the hands of his sons, Joan and Cornelis, who continued and expanded their father's ambitious plans. After the death of Cornelis, Joan directed the work alone and the whole series of 6 volumes was eventually completed about 1655. As soon as it was finished he began the preparation of the even larger work, the Atlas Major, which reached publication in 1662 in II volumes (later editions in 9-12 volumes) and contained nearly 6oo double-page maps and 3,000 pages of text. This was, and indeed remains, the most magnificent work of its kind ever produced; perhaps its geographical content was not as up-to-date or as accurate as its author could have wished, but any deficiencies in that direction were more than compensated for by the fine engraving and colouring, the elaborate cartouches and pictorial and heraldic detail and especially the splendid calligraphy.
In 1672 a disastrous fire destroyed Blaeu's printing house in the Gravenstraat and a year afterwards Joan Blaeu died. The firm's surviving stocks of plates and maps were gradually dispersed, some of the plates being bought by F. de Wit and Schenk and Valck, before final closure in about 1695.
It ought to be mentioned here that there is often confusion between the elder Blaeu and his rival Jan J ansson (Johannes Janssonius). Up to about 1619 Blaeu often signed his works Guilielmus Janssonius or Willems Jans Zoon but after that time he seems to have decided on Guilielmus or G. Blaeu.
NICOLAAS VAN GEELKERCKEN fl. 1610-35
Engraver, cartographer, publisher active in Leyden, Amhem and Amsterdam in the early years of the seventeenth century. His maps, though few in number, were particularly elegant.
HESSEL GERRITSZ 1581-1632
Gerritsz was apprenticed to W. J. Blaeu as an engraver before starting in business on his own account. He worked closely with Petrus Plancius and his merit may be judged by the fact that he was appointed Cartographer to the Dutch East India Company in preference to Blaeu and subsequently held the same position in a newly formed West India Company. With the new company he came into touch with Johannes de
Laet for whom he prepared a number of new maps of America in the latter's Nieuwe Wereldt published in 1625. His most important early work was a chart showing Henry Hudson's discoveries in his voyage of 1610-11: it is the first to give an outline of Hudson's Bay and indicates Hudson's belief that he had found a way to the North West Passage.
JAN JANSSON 1588-1664
Johannes Janssonius, more commonly known to us as Jan Jansson, was born in Arnhem where his father was a bookseller and publisher (Jan Janszoon the Elder). In 1612 he married the daughter of the cartographer and publisher Jodocus Hondius, and then set up in business in Amsterdam as a book publisher. In 1616 he published his first maps of France and Italy and from then onwards he produced a very large number of maps, perhaps not quite rivalling those of the Blaeu family but running a very close second in quantity and quality. From about 1630 to 1638 he was in partnership with his brother-in-law, Henricus Hondius, issuing further editions of the Mercator/Hondius atlases to which his name was added. On the death of Henricus he took over the business, expanding the atlas still further, until eventually he published an 11-volume Atlas Major on a scale similar to Blaeu's Atlas Major.
The first full edition of Jansson's English County Maps was published in 1646 but some years earlier he issued a number of British maps in the Mercator/Hondius/Jansson series of atlases (1636-44); the maps were printed from newly engraved plates and are different from the later 1646 issue and are now rarely seen (see Appendix B for further details). In general appearance Jansson's maps are very similar to those of Blaeu and, in fact, were often copied from them, but they tend to be more flamboyant and, some think, more decorative.
After Jansson's death his heirs published a number of maps in an Atlas Contractus in 1666 and later still many of the plates of his British maps were acquired by Pieter Schenk and Gerard Valck, who published them again in 1683 as separate maps.
WILLEM CORNELIS SCHOUTEN 1567-1625 JACOB LE MAIRE d. 1617
The voyage of Schouten/Le Maire in the years 1615-17 was one of the most important in the seventeenth century; they were the first to sail round Cape Horn (named after their home town Hoorn in Holland), disproving the long held theory that Tierra del Fuego r L'Ardante ou Flamboyante Colomne de Ia was part of a southern continent.
Subsequent accounts of the voyage, with maps, were L Colom de la Mer Mediterannee published by Schouten (1618) and Le Maire (posthumously, 1662)
PIETER VERBIEST c. 1607-74
An engraver and publisher active in Antwerp who produced a small number of maps including one of the British Isles based on an earlier map by N. Visscher.
JACOB AERTSZ COLOM 1600-73 - ARNOLD COLOM (son) c. 1624-68
Jacob Colom was a printer, bookseller, chart and globe maker who set out to challenge the virtual monopoly held by W. J. Blaeu, then the only chart maker in Amsterdam. His Pilot Guide De Vyerighe Colom published in various formats and languages (with exotic tides) to meet the demands of the time was highly successful and forced Blaeu to revise and enlarge his existing chart books. In spite of Blaeu's efforts, Colom's Guide remained popular with seamen for many years and although the charts were issued in great quantity, they are now extremely rare.
CLAES JANSZ. VISSCHER 1587-1652 - NICOLAES VISSCHER 1 (son) 1618-79 NICOLAES VISSCHER II (grandson) 1649-1702
For nearly a century the members of the Visscher family were important art dealers and map publishers in Amsterdam. The founder of the business, C. J. Visscher, had premises near to those of Pieter van den Keere and Jodocus Hondius whose pupil he may have been. From about 1620 he designed a number of individual maps, including one of the British Isles, but his first atlas consisted of maps printed from plates bought from van den Keere and issued as they stood with some additions of his own, including historical scenes of battles and sieges for which he had a high reputation. Some maps bear the latinized form of the family name: Piscator. After Visscher's death his son and grandson, both of the same name, issued a considerable number of atlases, constantly revised and brought up to date but most of them lacking an index and with varying contents. The widow of Nicholaes Visscher II carried on the business until it finally passed into the hands of Pieter Schenk.
PETRUS MONTANUS (Pieter van den Berg) ft. 1606
A Dutch geographer, active in Amsterdam, who worked in association with his brother-in-law, J odocus Hondius, for whom he prepared the text of the Mercator/Hondius Atlas (1606 and later editions). The map noted below, attributed to Montanus, is the first separately printed one of Maryland; known as 'Lord Baltimore's Map' it was published by him to attract settlers to the colony.
ANTHONIE (THEUNIS) JACOBSZ c. 1606-50 - JACOB JACOB5Z (LOOTSMAN) (son) d. 1679
Anthonie Jacobsz founded a printing and publishing business in Amsterdam in which he specialized in the production of pilot books and sea atlases. As he died at a comparatively early age most of the numerous editions of his works appeared after his death published by his sons, Jacob and Caspar, who took the name 'Lootsman' (sea pilot) to distinguish them from another printer of the name Jacobsz.
Following Blaeu and Colom, Anthonie Jacobsz was the most important compiler of sea charts in Amsterdam in the first half of the seventeenth century. In his new ZeeSpiegel issued in 1643 he increased the number of charts normally included in these books and enlarged them to folio size, which evidently proved popular. Editions in many forms appeared until 1715 and they were copied or reprinted by Pieter Goos, Hendrick Doncker and Jan Jansson, sometimes in competition with each other but usually in cooperation with the Lootsman brothers.
ABRAHAM GOOS fl. 1614-43 - PIETER GOOS (son) c. 161 5 -75
Abraham Goos was a noted engraver in Amsterdam who prepared plates for many maps published in well-known atlases of his time including Speed's A Prospect ofthe Most Famous Parts of the World (1627) and the 1632 edition of Speed's Atlas. He was related to the Hondius family by whom he was also employed as an engraver. In 1616 he issued a book of maps, the Nieuw Nederlandtsh Caertboeck (4to) which was re-issued in 1619 and 1625.
His son, Pieter, continued and extended his father's business and became one of the group of well-known engravers of sea charts active in Amsterdam in the middle years of the seventeenth century. In common with Colom, Doncker and Jacobsz he published a pilot guide, the Zee-Spiegel, basing it on plates obtained from Jacobsz. This went through many editions in different languages under the startling titles so popular at the time. In addition to publishing his Zee-Spiegel in the usual Parts 1 and II (Europe and Atlantic coasts) and Part III (Mediterranean) he broke new ground in preparing Parts IV and V, covering charts and sailing directions for the coasts of the West Indies and West Africa. The later editions of the Zee Atlas were published by his widow who eventually sold the publishing rights of the Atlas and of the Zee-Spiegel to Jacobus Robijn.
FREDERICK DE WIT 1630-1706
De Wit was one of the most prominent and successful map engravers and publishers in Amsterdam in the period following the decline of the Blaeu and Jansson establishments, from which he acquired many copper plates when they were dispersed at auction. His output covered most aspects of map making: sea charts, world atlases, an atlas of the Netherlands, 'town books' covering plans of towns and cities in the Netherlands and Europe, and wall maps. His work, notable for the beauty of the engraving and colouring, was very popular and editions were issued many years after his death by Pieter Mortier and Covens and Mortier.
HENDRICK DONCKER c. 1626-99 - HENDRICK DONCKER II (son) c. 1664-c. 1739 For about fifty years Hendrick Doncker ran a flourishing business in Amsterdam as a bookseller and publisher of sea atlases and textbooks on navigation. In a period when so many maps and charts were simply copied from other publishers, Doncker's charts were his own work and were noted for their accuracy and constant improvement. Apart from this work, he cooperated for many years with Pieter Goos and Anthonie Jacobsz in producing a pilot guide De Zeespiegel. Eventually his stock was sold to Johannes van Keulen.
PIETER VAN ALPHEN c. 1632-91
A bookseller and publisher in Rotterdam, whose charts and maps were largely based on those of his father-in-law, Jacob Aertsz. Colom. His Nieuwe Zee-Atlas of 1660 was an important assembly of sea charts including many of South East Asia and Australia.
JAN VAN LOON fl. c. 1649-86
Van Loon was a mathematician and engraver who contributed charts and maps to various pilot books and sea atlases by Jacobsz, Jan Jansson, Johannes J anssonius van Waesbergen and Robijn. In 1661he published a sea atlas, which was popular until the end of the century.
JOHANNES JANSSONIUS VAN WAESBERGEN fl. 1661-81 (JAN JANSSON'S HEIRS)
Van Waesbergen, established as a bookseller in Amsterdam, acquired by inheritance from his father-in-law Jan Jansson many of Jansson's plates including those of the Atlas Minor, the Civitates Orbis Terrarum and the Atlas of the Antique World. These works were republished by him, or after his death in 1681 by his son, also named Johannes. For a time he was associated with Moses Pitt in the abortive attempt in 1680-81 to publish an English version of the major atlases by Blaeu and Jansson.
ARNOLD MONTANUS fl. 1671
Published a notable Atlas of America which was used by John Ogilby as the basis for his An Accurate Description and Complete History of America. The maps were extremely decorative and included a view of New Amsterdam as it appeared soon after its foundation.
HUGH (HUYCH) ALLARD c. 1645-91 CAREL ALLARD (son) 1648-1709
The Allard family ran an active publishing business in Amsterdam in the latter half of the seventeenth century. Most of their publications consisted of atlases made up of maps and town plans by their more famous predecessors, Blaeu, Jansson, de Wit, Visscher and others, but one of their most attractive and interesting sheet maps was of New England (Hugo Allard, 1656), based on Jansson, which included a view of New Amsterdam by C. J. Visscher.
ARENT ROGGEVEEN fl. 1665-79
Roggeveen was a land surveyor and mathematician by profession, working in Middelburg where the Dutch East and West India Companies maintained collections of hydrographic manuscripts and charts, including Spanish portulans of the West Indies. No doubt through contacts there Roggeveen became interested in navigation and he compiled a pilot book of largescale charts of the West Indies and parts of the American coasts, with a second volume of the coasts of West Africa. These were the first such charts printed in Holland.
CORNELIS DANKERTS THE ELDER 1603-56 JUSTUS DANKERTS (son) 1635-1701
The Dankerts family, of whom the above were the most important, were prominent print and map sellers active in Amsterdam for nearly a century. Between the years 1680 and 1700 a number of atlases were produced with maps bearing the names Justus or Theodorus Dankerts. These are now very rare and as the title pages and maps are undated it is difficult, if not impossible, to place any map against any particular edition. The Dankerts were also noted for production of splendid wall maps of the world and the continents.
Their stock of plates was acquired by R. and J. Ottens who used them for re-issues, having replaced the Dankerts names with their own.
JOHANNES VAN KEULEN 1654-1711 - GERARD VAN KEULEN 1678-c. 1727
As we have noted in other biographies in this chapter, the Dutch produced a remarkable number of enterprising and prolific map and chart makers but not even the Blaeu and Jansson establishments could rival the vigour of the van Keulen family whose business was founded in 1680 and continued under their name until 1823 and in other names until 1885 when it was finally wound up and the stock dispersed at auction. Throughout the history of the family, the widows of several of the van Keulens played a major part, after their husbands' deaths, in maintaining the continuity of the business.
The firm was founded by Johannes van Keulen who was registered as a bookseller in Amsterdam in 1678. In 1680 he published the first part of his Zee Atlas which, over the years, was expanded to 5 volumes and continued in one form or another until 1734. More ambitious and with a far longer and more complicated life was his book of sea charts, the Zee-Fakkel, published in 1681-82 which was still being printed round the year 1800. A major influence in the development of the firm was the acquisition in 1693 of the stock of a rival map publisher, Hendrik Doncker.
Although the firm was founded by Johannes van Keulen, he was primarily a publisher; it was his son, Gerard, a talented engraver, mathematician, Hydrographer to the East India Company, who became the mainspring of the business which not only published charts but also books on every aspect of geography, navigation and nautical matters.
CLAES JANSZ. VOOGHT fl. 1680-96
Not much is known of Vooght's personal life beyond his own description of himself as a 'surveyor and teacher of mathematics and the art of navigation' on which he was a prolific writer. He is noted as the author of charts in Johannes van Keulen's Zee-Fakkel; indeed, on some editions only his name appears and in consequence the Zee-Fakkel is often catalogued under his name.
JACOBUS ROBIJN 1649-c. 1707
About 1675, shortly before the van Keulen publishing business was set up in Amsterdam, Robijn practised there as a map 'illuminator' and chart seller. After a short association with Johannes van Keulen he acquired publishing rights covering the Zee-Spiegel and Zee Atlas from the widow of Pieter Goos and used the plates to produce his own pilot book and sea atlas. Apart from a small number of plates prepared to his own order, most of Robijn's work cannot be said to be original: he issued Goos's charts and those of Roggeveen with a variety of texts by J. and C. Jacobsz (Lootsman), Arent Roggeveen and even John Seller with the result that analysis of the various issues cannot easily be simplified. Robijn's stock was eventually taken over by Johannes Loots. The brief details given below should be read in conjunction with our notes on Pieter Goos and Arent Roggeveen.
PIETER SCHENK 1660-c. 1718
Pieter Schenk was born in Germany but settled in Amsterdam where he became a pupil of Gerard Valck, the engraver. In 1687 he married Valck's sister and thereafter the Schenk and Valck families were active over a long period with a wide range of interests as print sellers, publishers of books, maps, topographical and architectural drawings and globe makers. Although the Schenk family produced some original maps, most of their atlases consisted of printings from revised and re-worked plates originally by Jansson, the Visschers, the Sansons and others.
GERARD VALCK c. 1651-1726 - LEONARD VALCK (son) 1675-c. 1755
Gerard Valck and his son were printers, engravers and globe makers in Amsterdam, closely linked by marriage with the Schenk family with whom they also had a long business association in map engraving and publishing. For further detail see entry under Pieter Schenk.
PIERRE MORTIER 1661-1711
Pieter and David Mortier were brothers of French extraction whose publishing interests covered a wide field embracing French and English works as well as Dutch. Pieter was probably trained in the bookselling business in Paris and David spent many years in England; in fact, he acquired British nationality and died there in about 1728. After Pieter's death, his widow continued the business until their son, Cornelis, was able to take over; then, in 1721, Cornelis entered into partnership with his brother-in-law, Johannes Covens, to form the famous name Covens and Mortier, a firm which continued in being with slight change of name until the middle of the nineteenth century. For details of their publications see under Covens and Mortier.
ROMAIN DE HOOGHE c. 1646-1708
A famous Dutch artist and engraver who produced a number of magnificent maps published in various atlases: some of the charts in Pieter Mortier's Atlas Maritime (part of Le Neptune Francois, 1693) were particularly splendid. For a time de Hooghe was in the service of King William III in England.
FRANCOIS HALMA 1653-1722
A book publisher who started business in Utrecht and later moved to Amsterdam and finally settled in Leeuwarden.
JOHANNES LOOTS c. 1665-1726
A mathematical and nautical instrument maker, Loots also published manuals on navigation. For a time he was in partnership with an engraver, A de Winter, and an author of text books on charts, Claes de Vries, who had ambitions to publish a very large sea atlas of some 200 charts but this was never completed on the scale contemplated. Some of their charts were sold to Gerard van Keulen and others were used in a sea atlas published in 1697. Charts by Loots also appear in a number of other pilot books and sea atlases of the time.
PIETER VAN DER AA 1659-1733
Records show that van der Aa, born in Leyden in 1659, made an early start in life by being apprenticed to a bookseller at the age of nine and starting on his own in business as a book publisher by the time he was twenty-three. During the following fifty years he published an enormous amount of material including atlases and illustrated works in every shape and size, two of them consisting of no less than 27 and 28 volumes containing over 3,000 maps and plates. Most of his maps were not of the first quality and were certainly not original but they are often very decorative and are collected on that account.
EUGENE HENRI FRICX fl. 1706-c. 1740
Bookseller and printer in Brussels whose major work was a very large-scale map of Belgium and Luxembourg, much copied by other publishers.
JOACHIM OTTENS 1663-1719 - REINER OTTENS (son) 1698-1750 - JOSHUA OTTENS (son) 1704-65
The family business of print and map selling was founded by Joachim Ottens but the active period of map publishing was concentrated in the years between 1720 and 1750 when the brothers, Reiner and Joshua, produced enormous collections of maps, some as large as 15 volumes. These, including copies of practically all maps available at the time, were made up to order and were magnificently coloured. Besides these specially prepared collections they also issued single-volume atlases with varying contents as well as pocket atlases.
JOHANNES COVENS 1697-1774 - CORNELIS MORTIER 1699-1783
Under the heading Pieter Mortier we give some details of the extensive publishing business which he built up in Amsterdam and which, after his death, was subsequently taken over by his son, the above-named Cornelis. In 1721 Cornelis married the sister of Johannes Covens and in the same year he and Johannes entered into partnership as publishers under the name Covens and Mortier which, with its successors, became one of the most important firms in the Dutch map publishing business.
Their prolific Output over the years included reissues of general atlases by Sanson, Jaillot, Delisle, Visscher, de Wit (whose stock they acquired) and others (often with re-engraved maps), atlases of particular countries including Germany, England and Scotland and others in Europe, pocket atlases, town plans and, from about 1730 onwards, a series under the title Nieuwe Atlas, some consisting of as many as 900 maps by various cartographers and publishers. As there is no conformity about these volumes they were presumably made up to special order and only general details of publication can be quoted in a work of this size.
JOHANNES RATELBAND 1715 c. 1791
1735 Kleyne en Beknopte Atlas (8vo) Maps and town plans of various European Countries based on the work of the La Feuille family.
ISAAC TIRION c. 1705-65
A successful publisher in Amsterdam who produced extensive volumes of Dutch town plans as well as a number of atlases with maps usually based on those of G. Delisle.
HENDRIK DE LETH c. 1703-66 - HENDRIK DE LETH (THE YOUNGER) ft. 1788
Engraver, publisher and painter, active in Amsterdam, worked for the Visscher family and eventually took over the business. De Leth is better known as an artist and engraver than as a cartographer although his historical atlas of the Netherlands was a very popular work. His son, Hendrik de Leth (the Younger), published a World Atlas in 1788.
JAN BAREND ELWE fl. 1785-09
A bookseller and publisher who reproduced a small number of maps copied from his predecessors.
PHILIPPE M. G. VANDERMAELAN 1795-1869
A Belgian publisher who produced one of the first atlases printed by lithography.