ACKERMANN, R. - Napoleon.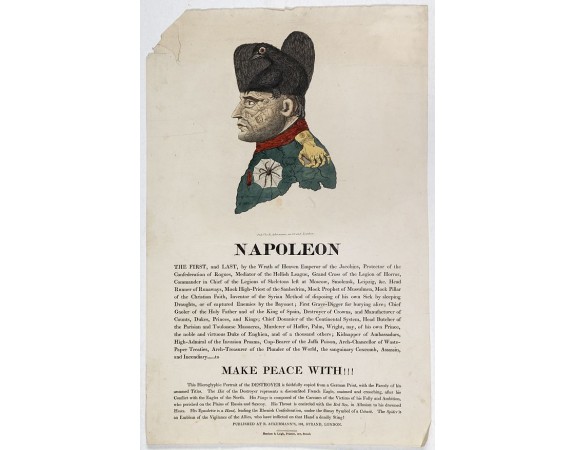 ACKERMANN, R. - Napoleon.
Date: London, ca. 1814
Size: 425 x 250 mm.
Colouring: In original colours.
Condition: Copper engraving with Small part of upper left margin missing. In good condition on thick paper.
Description
Satirical broadside hand coloured allegorical profile of Napoleon published by Ackermann, London. The letter press text underneath ends with the following explanation : "This hieroglyphic portrait of the Destroyer is faithfully copied from a German Print, with the Parody of his assumed Titles. The hat of the destroyer represents a discomfited French Eagle, maimed and crouching, after his conflict with the eagles of the North. His Visage is composed of the carcasses of the victims of his folly and ambition, who perished on the Plains of Russia and Saxony. His Throat is encircled with the Red Sea, in allusion to his drowned hosts. His epaulette is a hand, leading the Rhenish confederation, under the flimsy symbol of the Cobweb. The spider is an emblem of the vigilance of the Allies, who have inflicted on that hand a deadly sting !."
The portrait is after J.M. Voltz.