Auction results


Auction Heijns
Please find below a description of a rare atlas which will pass in an auction as lot14 . Please let us know if you have questions.
**Tuesday 7 March 2023 at 14h00
COUTON VEYRAC JAMAULT**
44000 NANTES, FRANCE
Tél. : 02 40 89 24 44
E-mail : contact@encheres-nantes.com
Viewing at the auction house the day to the auction from 9AM to Noon
See lot at Interencheres.com
**Expert : Béatrice Loeb-Larocque**
Membre du Syndicat Français des Experts Professionnels31 rue de Tolbiac, 75013 Paris
Tél. : +33 (0)1 44 24 85 80 / (0)6 11 80 33 75
E-mail : loeb.larocque@gmail.com
Estimation : 3 000 € - 5 000 €
Oblong 8vo (155 x 208 mm) ; ff. (1), 16-97, (1) and 80 woodcut maps. Contemporary limp vellum binding decorated with a gilt central medallion, flat spine with gilt fleurons and fillets. Gilt edges. The first edition, published in Amsterdam in 1598, illustrated with 80 woodcut maps.Unusual Zacharias Heyns's edition, in French, of Ortelius' "Epitome".
With this exceptional pocket edition of the "Theatrum Orbis Terrarum", the publisher, a son of Peter Heyns, author of the rhymed text for Ph. Galle's 1st ed. in 1579, wished to thank Walter del Prato, a Cologne merchant, for marrying his niece. He presented this "Miroir du monde" as an enlargement of his father's bestseller and a tribute to him. But, instead of the common choice for copperplates, he illustrated the atlas with woodcuts, not based on the usual sources, such as the atlases of Ortelius or Mercator but mostly on the original maps.
Also, Zacharias omitted the planned 18 lvs introduction, only including a dedication, a poem and a portrait, and gave his first gathering the signature "A&E" to make it clear that the atlas is complete. With the printer's mark (variant A) with the three main virtues on the title.
Remboîtage binding is slightly shorter than the atlas. Binding is slightly browned and rubbed, small lack of vellum upper part of the back cover. Minor restoration at the bottom of folio 16. Generally a very pleasing example, internally sound and very clean.
Van der Krogt IIIA [334:01A] ; Burden 111 ; Shirley 209
Ready to sell ?
Loeb-Larocque Rare Maps and Books has more than 27 years of expertise in old maps, atlases and illustrated books. If you are considering selling separate items or a complete collection, please do not hesitate to contact us for advice.
We purchase immediately or act as expert for Parisian auction houses like Binoche et Giquello, PIASA, Daguerre, Rossini, Kahn-Dumousset, Libert. Béatrice also works for auction houses outside of Paris such as Couton Veyrac in Nantes, Vichy Enchères in Vichy.
Some results achieved in recent Auctions

Portulan ( Sold € 22.000)
PLACIDO CALOIRO et OLIVA [or workshop]. [Portulan de la Méditerranée]. Messine, ca. 1621 et 1665. 71,5 x 44,5 cm. Manuscript sea chart pen and ink drawn on vellum measuring 71.5 x 44.5 cm.
Sold for 22.000 euros
Elaborately decorated in the traditional style of portulan charts. In very good condition except for two sections where the vellum is missing. On the western edge, a strip about 30 cm wide has been lost and in the southeast a small section of the corner has been torn away.

Despite these losses, the actual coverage area of the chart has not been significantly impacted.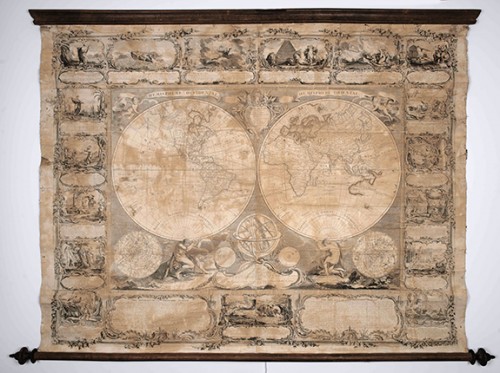 Mappemonde (€ 6.100)
Lot 204
CHAMBON, Gobert-Denis. Mappemonde contenant les parties connues du globe terrestre dressée suivant de nouvelles observations. Paris, Longchamps et Janvier, 1754. Wall map printed on two sheets and surrounded by borders with biblical vignettes in six sheets, laid down on linen, and mounted at the time on two wooden poles. Paper browned, with crease marks and tears but without loss of paper. Sold as is. 1140 x 1450 mm.
Sold for 6 100 €
Wall map of the world published in Paris, depicting the Eastern and Western hemispheres supported by two male figures, decorated at the bottom right and left with two celestial hemispheres (boreal and southern) and at the bottom in the middle with an armillary sphere, in addition, surrounded by decorative borders made up of vignettes depicting scenes from Genesis. This map is most notable for its depiction of the Sea of Japan labeled "Mer de Corée" and of "Mer de L'Ouest" or Sea of the West - a great sea, easily the size of the Mediterranean, to flow from the then-known Strait of Juan de Fuca. Australia and New Zealand are depicted in typical post-Tasman form,

Atlas - Neptune (€ 13.000)
DÉPÔT DES CARTES ET PLANS DE LA MARINE / SARTINE. Neptune américo-septentrional contenant les cotes, iles et bancs, les baies, ports, et mouillages, et les sondes des mers de cette-partie du monde, depuis le Groenland inclusivement, jusques et compris le golfe du Mexique. Paris, Dépôt des Cartes et Plans de la Marine, [1780].
Sold for 13.000 euros
Folio. Engraved title-page, 26 engraved maps and plans of the Atlantic seaboard on 13 full sheets and 5 half sheets. Blue paper boards. Calf label with the inscription « Brest N° » pasted on first board. FIRST EDITION. This "American Neptune" was published for the use of the French navy during the American Revolution, by order of Antoine de Sartine (1729-1801), then Minister of Marine (1774-1780), and a great modernizer of the French navy.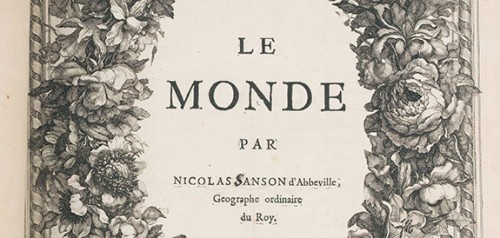 Sanson atlas ( € 15.100)
SANSON, N. - Le Monde par Nicolas Sanson d'Abbeville, Geographe ordinaire du Roy. A Paris chez N. Langlois rue St. Jacques à la Victoire, c. 1662-1664.
Sold for 15.100 euros

Unrecorded edition by Nicolas Langlois of Nicolas Sanson's world atlas, probably published ca. 1662-1664. The atlas includes an unusual engraved title-page « Le Monde par Nicolas Sanson d'Abbeville, Geographe ordinaire du Roy. A Paris chez N. Langlois rue St. Jacques à la Victoire. Avec Privil. du Roi ». The title is printed inside an engraved motif depicting a wreath of flowers.
Followed by 4 pages of an alphabetical list of the maps in manuscript. The maps are numbered in pen and ink at the top right corner. The most recent map is dated 1661.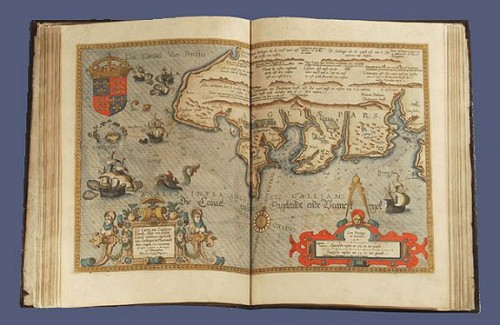 Musée Vauban
WAGHENAER, Lucas Janszoon. (c. 1534 - c. 1606) (Speculum nauticum). (Leyde, Franciscus Raphelengius pour Luca Johannes Aurigarius, 1586). Deux parties en 1 vol. in-folio : Première partie : (1) f. de titre, (2) ff., 36 pp. et 22 cartes en coloris d'époque ; Seconde partie : - (1) f. de dédicace et 23 cartes en coloris d'époque. Reliure de l'époque, veau brun, dos à nerfs orné, plats ornés d'un motif central de tapis persan repris dans les angles, tête et tr. dor. (reliure de l'éditeur).
Résultat 220.000 €
Exemplaire de luxe de cette première édition en latin du « Spieghel der Zeevaerdt » dont les cartes ont été gravées par Baptist et Joannes van Deutecum. La traduction en latin est due à Martin Everart.
Vente Collections du Musée de la Citadelle Vauban, Belle-Île-en-Mer
Vendredi 16 juillet / Samedi 17 juillet 2010
The following lots in this auction are described by Béatrice Loeb-Larocque : N° 60, 62, 63, 64, 71, 72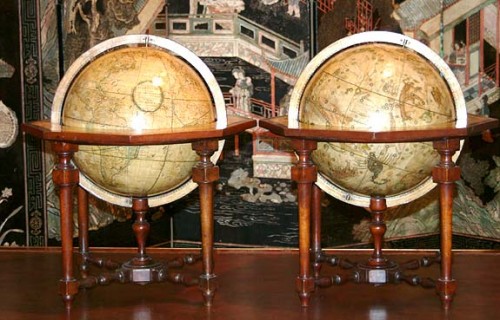 Pair of globes by G.M. Cassini
Pair of terrestrial and celestial globes by G.M. Cassini, diameter 33cm, height with stand 59cm.
Result : 30.000 Euros
Rome, terrestrial dated 1790, celestial 1792. Each globe covered by 12 printed, hand-coloured, gores, with polar calottes. The meridian circle, paper laid on wood, the horizon ring with zodiac and calendar scales on a octagonal frame supported on fruit-wood stand, the four legs united by cross-strechers carrying the centrepost.
Béatrice Loeb (expert)
31 rue de Tolbiac, 75013 Paris, France
by appointment only
Tel.: +33 (0)1 84 88 45 86 / +33 (0)1 44.24.85.80
cell +33 (0)6.11.80.33.75
Email : info@loeb-larocque.com
contact form >>>>