STRADA, F. - De Bello Belgico, Decas Prima Deces II.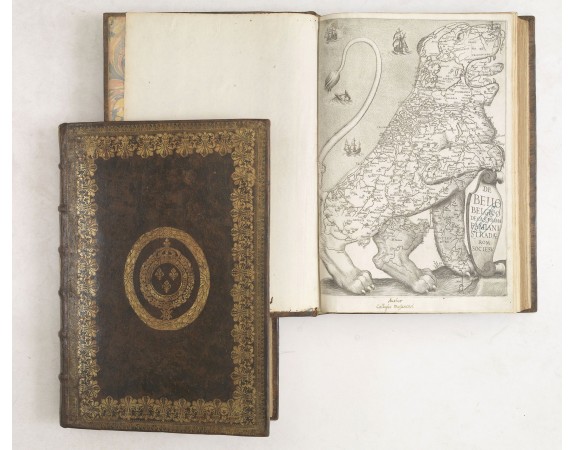 STRADA, F. - De Bello Belgico, Decas Prima Deces II.
Date: Rome, Franciscus Corbelletus, 1632-1647
Size: 350 x 240 mm.
Colouring: Uncoloured.
Condition: 2 vols. Folio. (10), 374, (88), (12),480, (56) pp. Contemp. Full calf, spine in compartments, richly gilt with 2 red title-labels, with richly gilt ornamental borders on side with large gilt central ornament of three 'fleurs de lys' (LOUIS QUATORZE PRESEN
Description
Each volume containing an engraved title with a representation of The Netherlands and Belgium in the shape of a lion, with one paw resting on a shield bearing the title, large woodcut printer's device on the colophons, and 30 richly engraved views and plans of battles and sieges, 28 double-page and 2 full-page, by Johanness W.Bauer, J.Miele, Jacomo Cortese, a.o.

Two examples of the famous Leo Belgicus-map are included. Among the greatest decorative works of early cartography is a series of arresting maps lion-maps..
This item is the first map in a first state included in The Bello Belgico.

The Bello Belgico is written by Famianus Strada (1572-1649), Jesuit and teacher at the Collegium Romanum in Rome, was a pro-Spanish and pro-Catholic book on the Dutch war of independence. Editions in Italian, Dutch, French, Spanish and even in the Polish language followed, but only the Latin and Dutch editions have the lion maps.
With printed prize-leaf of the Paris Jesuit College at the beginning of each volume, filled in by hand, signed and dated 1698, and sealed.