Auction of Vichy-Boym map of China
14 Aug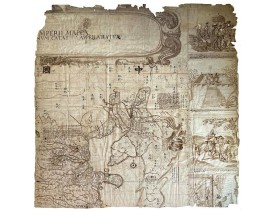 Posted By
0 Comment(s)
89 View(s)
MOST PROBABLY THE 4th KNOWN EXAMPLE IN MANUSCRIPT OF ONE OF THE MOST FAMOUS MAPS OF CHINA

VICHY ENCHERES - 16, avenue de Lyon 03200 Vichy, France
expert : Béatrice Loeb-Larocque. Tel. +33 (0)6 11803375- info@loeb-larocque.com
BOYM, Michal Piotr. (1612-1659). - …mperii Mappa…num Catay Appellabatur (Map of china).
Rome ?, ca. 1652-1656
Part of a larger manuscript wall map on paper produced in black and brown pen and ink. Longitudes and latitudes are drawn in red ochre. Dimensions of the map: 780 x 810 mm, total dimensions: 1100 x 1070 mm. ( 43x41 inches)

What makes this example unique is that to the right, the map has a border featuring four scenes with Latin captions relating to the Ming dynasty and, more specifically, to the reign of the Chongzhen emperor: procession for the accession to the throne in 1628, the residence of the empress.
At the top is a large decorative title cartouche in Latin and a compass rose near Korea.
The map also includes the longitudes and latitudes drawn in red ochre, a transcription of the Chinese geographical names accompanied by Romanized spelling.
The map has extensive explanatory notes in Latin, mountains outlined in the European manner, a Phoenix, a musk deer, the Gobi Desert and the Great Wall. The Phoenix (Avis Regia) and the head of the musk dear (Tusked Quadruped) are also represented in Flora Sinensis from 1656 and is one of the first (European) natural history books about China. The animals are drawn separately on paper strips and applied over the map.
The Latin title has been corrected several times by applying paper strips and adding the letters in ink over them.
Estimation € 30.000 - €40.000