L'ISLE, G. de / DEZAUCHE. - Carte du Mexique et des Etats Unis d'Amérique…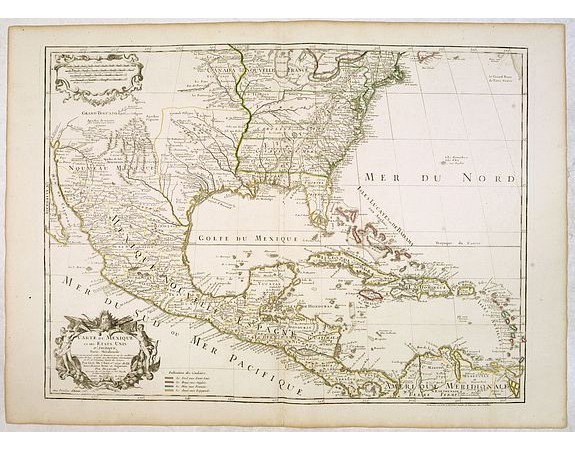 L'ISLE, G. de / DEZAUCHE. - Carte du Mexique et des Etats Unis d'Amérique…
Date: Paris, 1783
Size: 476 x 650 mm.
Colouring: In original o/l colours.
Condition: Very good condition.
Description
A later edition of De l'Isle's foundation map of 1703, widely regarded as one of the most influential maps in the history of American Cartography. This updated version of the map, published by Dezauche (one of De L'Isle's successors) in 1783, is the first edition to identify the United States boundaries.

Showing the explorations of d'Iberville and his men on the Gulf Coast and the lower reaches of the Mississippi and Red rivers, and the Indian villages in East Texas where the Spanish constructed their missions and presidios.
Route of the Spanish gold and silver fleets shown.
Dezauche has altered the original title to include the "Etats-Unis" and added a colour code to identify British, Spanish and French colonial possessions.