SCHEDEL, H. - Parisius & Maguncia. [Paris & Mayence] Folio XXXIX.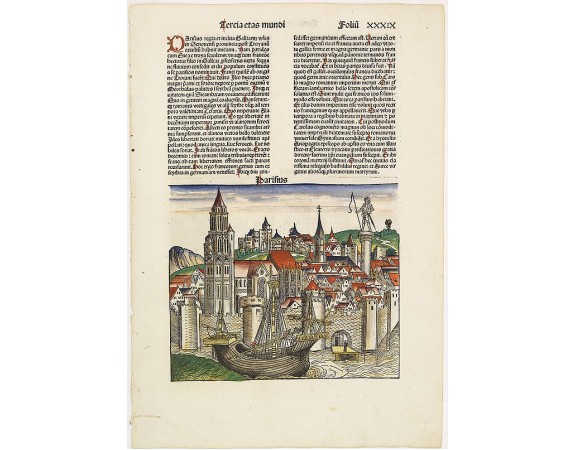 SCHEDEL, H. - Parisius & Maguncia. [Paris & Mayence] Folio XXXIX.
Date: Nuremberg, 12 Juillet 1493
Size: 360 x 230 mm.
Colouring: In attactive colours.
Condition: Wood cut. Some marginal minor age-toning on the outer left hand margin. Size of illustration 229 x 197mm.
Description
Imaginary view of Paris and on verso Munich : however the earliest obtainable views of this period.
In the forground a large vessel, who was the symbol of the powerful corporate body of the Marchands de l'eau, and is dating back to the Middle Ages. The city motto, "Fluctuat nec mergitur" ("It is beaten by the waves without being submerged") is equally a reference to this vessel. The first mention of coat of arms of Paris with the vessel appears as early as 1190 when Philippe Augustus gave the design to the city, shortly before embarking to the Holy Land.
Page from the richest illustrated Incunabel, the famous: Liber chronicarum or Nuremberg Chronicle, published the year that Columbus returned to Europe after discovering America.
The woodblock cutters were Michael Wolgemut, the well-known teacher of Albrecht Dürer, and his stepson Wilhelm Pleydenwurff. Wohlgemut was Albrecht Dürer's tutor between 1486-90 and recent scholarship has shown, Albrecht Dürer may also have collaborated, since some of the cuts bear a remarkably close resemblance to the Apocalypse illustrations.
The printing was carried out under the supervision of the great scholar-printer Anton Koberger, whose printing were famous throughout Europe
A opportunity to acquire a 15th-century book illustration by named artists.!
See other items by this publisher: SCHEDEL, H.
Reference N°:

29718