SCHEDEL, H. - Ulma [Ulm. Folio CXCI ].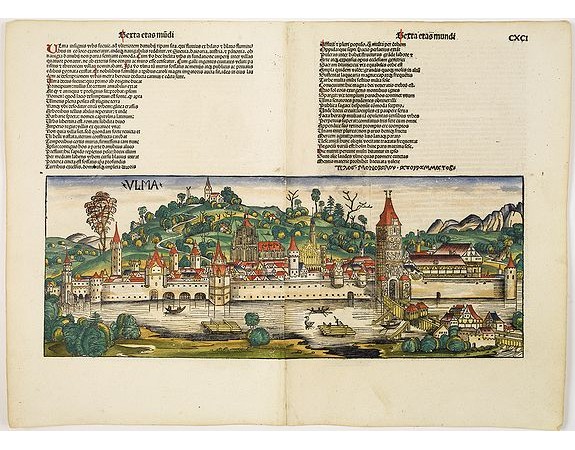 SCHEDEL, H. - Ulma [Ulm. Folio CXCI ].
Date: Nuremberg, 12 July 1493
Size: 200 x 520 mm.
Colouring: Coloured.
Condition: Double page wood cut. Two sheets joined, excellent.
Description
Double page panoramic view of Ulm.
A imaginary view, however the
earliest obtainable view
of this period.
Two page from the richest illustrated Incunabel, the famous:
Nuremberg Chronicle
, published the year that Columbus returned to Europe after discovering America.
The woodblock cutters were Michael Wolgemut, the well-known teacher of Albrecht Dürer, and his stepson Wilhelm Pleydenwurff. Wohlgemut was Albrecht Dürer's tutor between 1486-90 and recent scholarship has shown, Albrecht Dürer may also have collaborated, since some of the cuts bear a remarkably close resemblance to the Apocalypse illustrations.
The printing was carried out under the supervision of the great scholar-printer Anton Koberger, whose printing were famous throughout Europe
A opportunity to acquire a 15th-century book illustration by named artists.!<
See other items by this publisher: SCHEDEL, H.
Reference N°:

29713