ARIAS MONTANUS, B. - Tabula Terrae Canaan Abrahae tempore et ante adventum…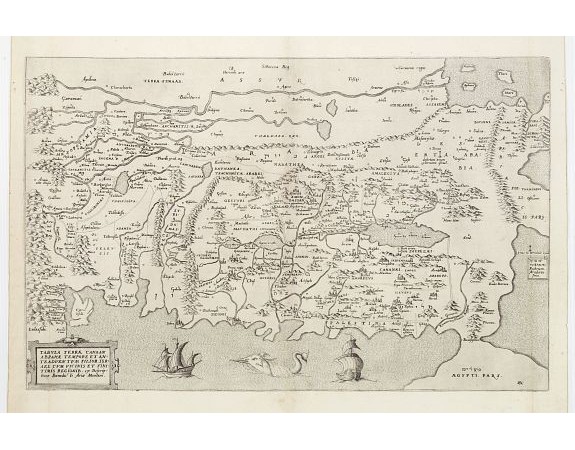 ARIAS MONTANUS, B. - Tabula Terrae Canaan Abrahae tempore et ante adventum…
Date: Anvers, 1572
Size: 330 x 505 mm.
Colouring: Uncoloured
Condition: Paper slightly age-toned, small wormholes throughout the map, as is often the case: a good and dark impression.
Description
Map of Canaan at the times of Abraham and before the conquest by the Children of Israel, with the neighboring regions. Oriented to the east. The shore line runs from Turkey as far as Egypt, and inland from the Mediterranean as far as Babylonia. The shore line of Palestine is most distorted.
Shows a big Haifa bay, does not mention either Haifa or Acco, but does mention Mount Carmel. The Mediterranean is connected by a river with the Lake of Tiberias. Many names are in Hebrew lettering also.
From Benedictus Arias Montanus' Liber Chanaan. Also in his rare Biblia Polyglotte and based on Marinus Sanudo's map of the Holy Land, of c. 1320.