BÜNTING, H. - Africa Tertia pars Terrae.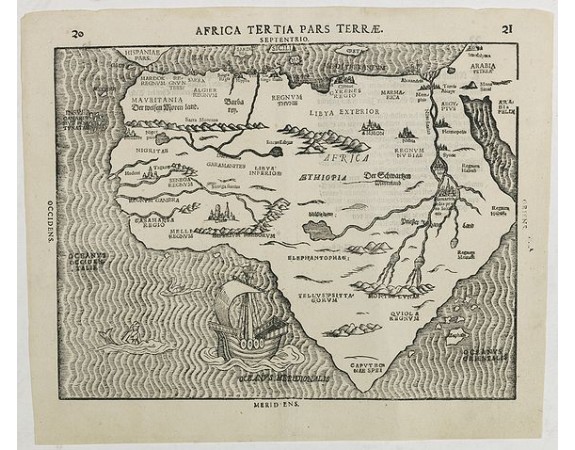 BÜNTING, H. - Africa Tertia pars Terrae.
Date: Magdeburg, ca 1581
Size: 260 x 335 mm.
Colouring: Uncoloured.
Condition: In very good condition. Paper slightly washed and sized, still occasional minor spotting. Wide margins. Dark impression.
Description
This map of Africa has an unusual shape, tapering to a narrow angle in the south. Numerous rivers appear in West Africa and as tributaries to the Nile, and mountain chains and various kingdoms are mentioned. The sea with a galleon, a merman and above him a sea-bird.

"The appearance of the map, especially when compared to other maps from this period, is unusual" (B.). "The sea is engraved in narrow wavy lines, and bears a galleon, merman and acquatic bird" (T.). According to Betz variant 2 still with Cairo on the east side of the Nile, but "some of the place names shifted upward in such a way as to be printed almost over the geographical features".

Bünting's work Itinerarium Sacrae Scriptura was essentially a theological commentary with other maps of great curiosity. German text on verso.
Collectors item!