The Two Most Spectacular French Panoramas: Paris and Marseille
02 May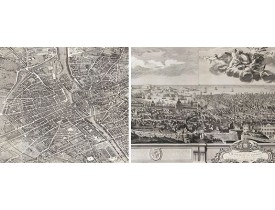 Posted By
0 Comment(s)
1138 View(s)
What the stunning Turgot plan is to Paris, the exquisite Aulagnier view is to Marseille. Throughout the 18th century Marseille and Paris were undoubtedly two of the richest towns in France. The Turgot plan was published in 1739 as an bird's-eye view however, perhaps even more visually spectacular was the almost 3 metre panoramic view of Marseille, and its harbour, prepared by Joseph Aulagnier, and published in 1751.

These prints hung in the offices of successful businessmen and public officials, or were used as generous gifts by the town board. The Aulagnier view of Marseille is rare and only known in a handful of examples.

For this presentation in French, Béatrice Loeb of Librairie Loeb-Larocque will present a special video on the making of these two spectacular 18th century walls.