BRION DE LA TOUR, L. - Carte du Théatre de la Guerre Entre les Anglais et les Américains: Dressée d'apres les Cartes Anglaises les plus modernes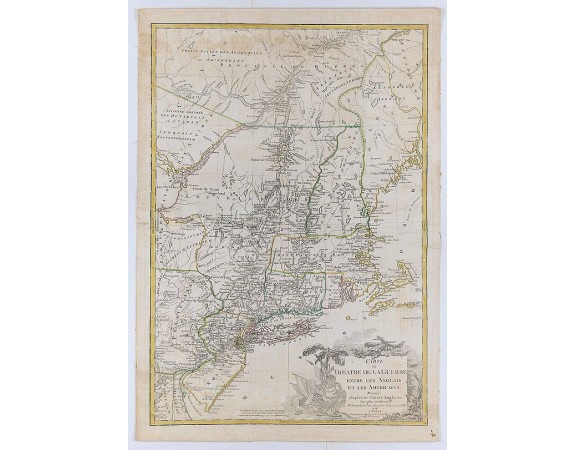 BRION DE LA TOUR, L. - Carte du Théatre de la Guerre Entre les Anglais et les Américains: Dressée d'apres les Cartes Anglaises les plus modernes
Date: Paris, Esnauts et Rapilly, 1778
Size: 755 x 515 mm.
Colouring: In original o/l colours.
Condition: Several restored marginal tears into printed area. Slightly age-toned as usual. Pasted on linen. Slightly water staining at upper part with small loss of paper at "trois rivières". Paper slightly creased.
Description
Uncommon 1778 edition with the site of Burgoyne's surrender at Saratoga (here spelled "Saharatoga").This is an important separately published French map of the northern American colonies at the beginning of the American Revolution.
First issued in 1777, then in1778, 1779 and in a reduced size in 1782.

The first issue of the map contains no military information whatsoever. The second issue presents the capitulation of Burgoyne on 16 October 1777 and the position of British troops at German Town and Frank-Fort. A third issue appeared in 1779 with expanded place names, and lastly, the map was issued again in 1782 with additional troop placements in New Jersey and elsewhere. Burgoyne's surrender at Saratoga was soon followed by the signing of the Treaty of Amity and Commerce in February 1778 (under which France recognized the United States as a nation).

Ultimately the French were convinced to side with the Revolutionary forces, which resulted in Great Britain declaring war on France.

This example has no centerfold, and was a separate issue and not associated with any specific publication.
The map is based on Jeffery's' map of the region and covers from Delaware and Chesapeake Bays northward as far as Quebec City, inclusive of New York (with modern day Vermont), New Jersey, Massachusetts, Connecticut, New Hampshire, and parts of Pennsylvania, Maryland, Delaware, Maine and Canada. Shows both political and topographical detail including mountains, rivers, roadways, regional boundaries, American Indian nations, towns, and cities.
It provides excellent detail of boundaries, counties, towns and cities, forts, roads and Indian nations. The large title cartouche features a Native American chief.