CORONELLI, V. / DE TILLEMONT. / NOLIN. - Le Globe Terrestre Represente en Devx Plans Hemispheres, …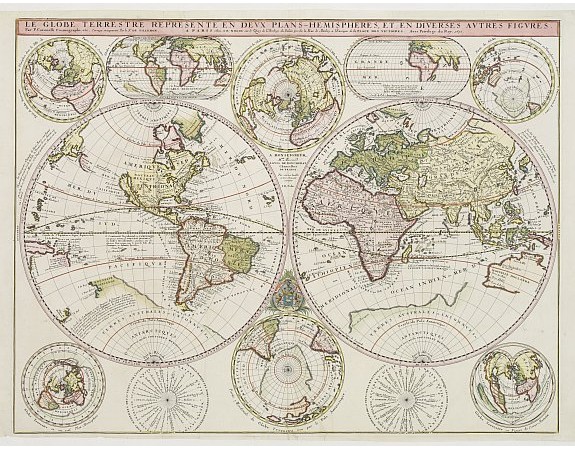 CORONELLI, V. / DE TILLEMONT. / NOLIN. - Le Globe Terrestre Represente en Devx Plans Hemispheres, …
Date: Paris, 1690
Size: 458 x 600 mm.
Colouring: Coloured.
Condition: Repair of split and tear lower part center fold 9cm and 3cm respectively into the engraved area. Local paper thinness. Good condition.
Description
A beautifully decorative 17th Century world map.
With dedication "a Monseignevr M.gr Messire Lovis de Bovcherat chancellier de France par son tres humble et tres obeissant serviteur I. B. Nolin".
De Tillemont often worked with Coronelli and this world map is based on the information of both men. The map features two principal hemispheres and 8 smaller projections. California is shown as an island with the indented northern coastline. Australia's eastern coastline is left undefined. The South Pacific features a few other undefined coastlines, including New Zealand. The Mississippi River is noted in North America. Geographically, the map tends to follow Coronelli's globe of 1688. One noticeable addition to the world map is the Solomon Islands in the Pacific.
Shirley states:
The engraving is commendably precise and clear.
More about
Coronelli.
[+]