DIETH, H. - Hong Kong. [Queen's Road].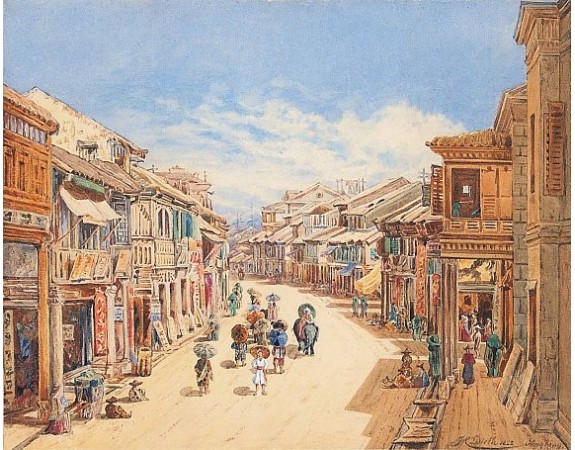 DIETH, H. - Hong Kong. [Queen's Road].
Date: Germany, 1882
Size: 270 x 380 mm.
Colouring: In original colours.
Condition: Water colour on paper, signed and dated. Framed.
Description
Finely executed water colour made by Henri Dieth of a charming atmospheric street scene at Queen's Road in Hong Kong. The water colour is made after Eduard Hildebrandt (1818-1869). Hildebrandt, was born in Gdansk, and made numerous journeys visiting the Americas, most of the Mediterranean countries, Asia Minor, India, China, Japan and crossing the Pacific: the present water colour is from a sketch that was probably made as a result of his visit to Hong Kong in-between 1862 to 1864. This scene among others were published in 1871-1874 by R. Wagner as a collection of chromolithographs entitled "Reise um die Erde" (Journey Around the Earth).
See other items by this publisher: DIETH, H.
Reference N°:

24362