JAILLOT, H. / MORTIER, P. - Carte de la Manche.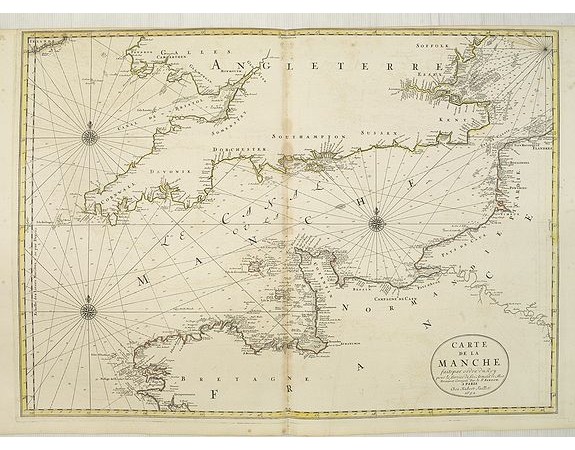 JAILLOT, H. / MORTIER, P. - Carte de la Manche.
Date: Amsterdam, Pierre Mortier, 1693
Size: 578 x 785 mm.
Colouring: In original o/l colours.
Condition: Printed on two joined sheets. Paper along the centerfold slightly age-toned. Very good condition.
Description
Chart
showing the Chanel, with the coastline of France from La Baie de Douarnenez to Dunkerque, and the coastline of England from Stroble head to Manning Tree.
Boundaries outlined in hand colour. The map is fully and richly engraved.
The map notes Nicolas Sanson as the mapmaker and claims that the map was published by Alexis-Hubert Jaillot (1632-1712).
However this plate is from the newly engraved Dutch counterfeited edition of the ' Atlas Nouveau', published by Pieter Mortier in Amsterdam.
Pierre Mortier's grandparents left France in about 1625 to live in Leiden. His parents settled in Amsterdam in 1661 or 1662. Pierre Mortier grew up in Amsterdam but lived in Paris from 1681 to about 1685 where he must have gotten into the book trade. Once he was in Amsterdam again he specialized in French books.
He established himself in atlases and introduced the modern French maps by Sanson's and Jaillot's in a larger format than the classical Dutch maps.