La carte d'Avignon: De la Méditerranée à la Baltique 1190-1490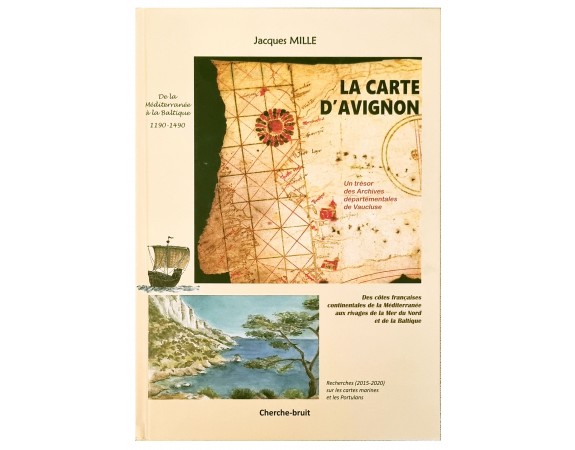 La carte d'Avignon: De la Méditerranée à la Baltique 1190-1490
Published: 2021
Size: 305 x 215 mm.
Color: Color printed.
Condition: Hard cover. Unused. Printed in 400 (numbered and signed by the author) examples. 361pp., many colour illustrations, hard cover.
Description
The author of this richly documented and illustrated book discusses his research on medieval nautical charts and portolans (nautical instructions), in particular of the French continental coasts of the Mediterranean, before revealing an exceptional nautical chart recently discovered in the Departmental Archives of Vaucluse. The first part shows how the coasts of Nissard, Provence, Languedoc and Roussillon were described in five Portuguese texts translated and annotated, and represented on the first nautical charts: Pisane, Cortona, Lucca and Vesconte charts. 139 toponyms recorded on these coasts are listed with their modern concordance.
In the second and third parts, Jacques Mille provides convincing proof that the so-called Avignon map, dating from around 1300-1310, is also one of the oldest preserved to date, the very first on which the North Sea appears. , with the English coasts as far as Scotland and, beyond Bruges, the northern European coasts schematically represented with the Danish peninsula and, in the Baltic, the island of Gotland. Its approximately 300 toponyms, new to many, are also listed with their modern correspondence.
Jacques Mille shows that this map was probably designed for a Ligurian merchant wishing to know the trade routes linking Bruges or London to the Genoese trading posts on the Black Sea via the Baltic, Gotland and the Russo-Ukrainian rivers.
Through close study, it demonstrates that its unknown author was a quality cartographer whose innovative work predates the maps of Vesconte (1313-1327), well before those of Carignano and Dulcert (1327-1330), reputed to be the first to have represented these northern regions.
The Carte d'Avignon is a celebration of research by a highly enthusiastic amateur who has put much time, energy, and rigor into investigating a newly discovered portolan chart.

Click on image to zoom