MÜNSTER, S. - Groeninga MDLXXIII. [Groningen].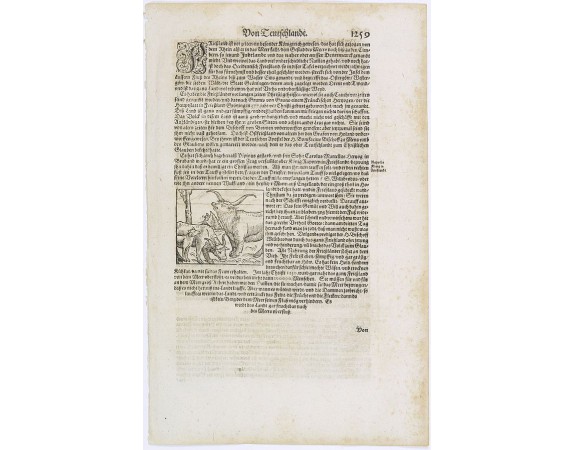 MÜNSTER, S. - Groeninga MDLXXIII. [Groningen].
Date: Basle, ca. 1564
Size: 125 x 155 mm.
Colouring: Uncoloured.
Condition: In very good condition. Wood block print with letter press.
Description
RECTO: A panoramic view of the city of Groningen dated 1573.
VERSO: a woodcut of a cow, a bull and their calf.
Taken from Sebastian Munster's encyclopedic work, the "Cosmographia Universalis". The Cosmographia by Sebastian Münster had numerous editions in different languages including Latin, French (translated by François de Belleforest), Italian, English, and even Czech. The last German edition was published in 1628, long after his death.
The Cosmographia was one of the most successful and popular books of the 16th century. It passed through 24 editions in 100 years. This success was due to the fascinating woodcuts (some by Hans Holbein the Younger, Urs Graf, Hans Rudolph Manuel Deutsch, and David Kandel). It was most important in reviving geography in 16th century Europe.
See other items by this publisher: MÜNSTER, S.
Reference N°:

27192