MEISNER, D. - Buarcos.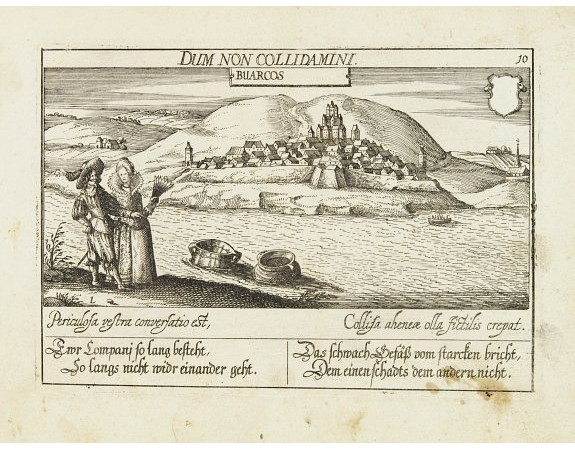 MEISNER, D. - Buarcos.
Date: Frankfurt, 1623 / 1778
Size: 100 x 145 mm.
Colouring: Uncoloured.
Condition: A good and dark impression. Some light brown spots. Very good.
Description
A very nice view of the city of Buarcos. On the foreground, a couple is walking next to the river. With a verse in two languages underneath the picture.
The poet Daniel Meisner from Komotau started his Thesaurus Philo-Politicus. Das ist Politisches Schatzkästlein guter Herren und bestendiger Freund... in Frankfurt in 1623, initially in parts, each one containing about fifty plans. The work was printed work and was printed by Eberhard Kieser. In 1678 the collection of copperplates was sold to Paul Fü, who continued the printing under the title
By 1625 the collection included 362 which had increased to 800 the end of the century, when the last edition was published.
A rare and attractive print.
See other items by this publisher: MEISNER, D.
Reference N°:

13768