MEISNER, D. - Merla in Ob. Hessen. [Merlau].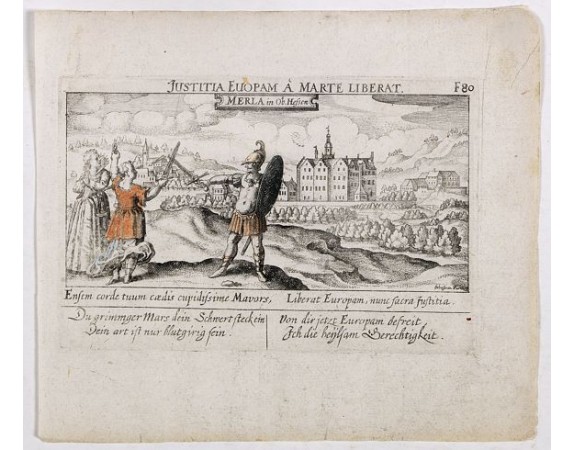 MEISNER, D. - Merla in Ob. Hessen. [Merlau].
Date: Frankfurt 1623 - 1778
Size: 100 x 145 mm.
Colouring: Coloured.
Condition: A somewhat faded impression. Printed on thin paper.
Description
A panoramic view of the castle and town of Merlau in Hessen. On the foreground, two men fighting each others are depicted. With a verse in two languages underneath the picture.
The poet and topographer from Comothau, Daniel Meisner (1585-1625), started his first publication entitled Thesaurus Philo-Politicus in Frankfurt in 1623, initially in parts, each one containing about fifty plans. The work was engraved circa 1623-1650, and printed 1678, and was published by Eberhard Kieser. In 1678 the collection of copperplates was sold to Paul Fü, who continued the printing under the title Sciographia Cosmica
By 1625 the collection included 362 which had increased to 800 the end of the century, when the last edition was published.
Among the master engravers that contributed to this series, usually working from earlier sources, were Matthäus Merian, Sebastian Furck, Christian Stimmer and Meisner himself.
Each engraving is distinguished by a motto (usually in Latin) above the image and emblematic verses (usually in Latin and German) beneath. These mottos and verses are intended to relate to the history or culture of the city depicted, although the connection can be somewhat cryptic. It is interesting to note that topographical and other details in these engravings are often more precise than many engravings of the era made on plates several times this size.
A rare and attractive print rich in allegorical imagery, the Meisner engravings are masterful examples of Renaissance art and culture.
See other items by this publisher: MEISNER, D.
Reference N°:

13826