ORGIAZZI, J. A. - Carte Statistique, Politique, et Minéralogique de l'Italie où sont tracées toutes les routes, relais, et distances de postes…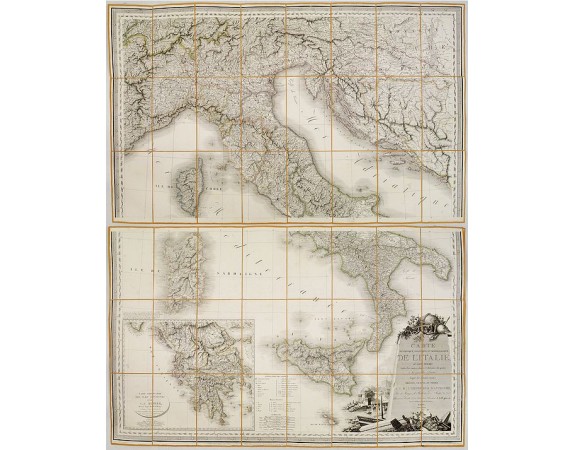 ORGIAZZI, J. A. - Carte Statistique, Politique, et Minéralogique de l'Italie où sont tracées toutes les routes, relais, et distances de postes…
Date: Paris, Dépôt Général de la Guerre, 1816
Size: 590 x 990 mm.
Colouring: In original o/l colours.
Condition: Engraved map, hand-coloured in outline, in two sections. Folding map dissected in 24 sections, peach linen mounted, case plan. With 1 general key map. Green paper slip-case, a little bit rubbed and scuffed. Else very good condition.
Description
Folding, extending west to east from Monaco to Otranto and north to south from The Alps to Malta, inset of Greece,. Cartouche depicting Rome and her classical past. Publisher's Simonneau Ex Libris on verso, green paper slip-case, rubbed and scuffed. Drawn and engraved by J. A. Orgiazzi and published by Le Dépôt Général de la Guerre for the Emperor of Austria. 2 maps.