PETRI, G. - Province ecclesiastica di Monaco nel regno di Baviera (Tav LXXVII)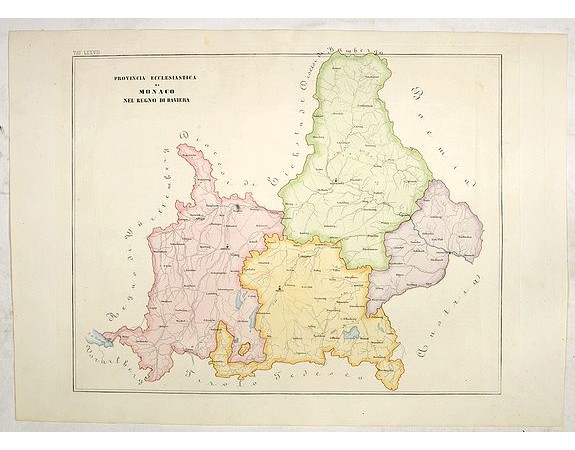 PETRI, G. - Province ecclesiastica di Monaco nel regno di Baviera (Tav LXXVII)
Date: Rome, 1858
Size: 495 x 618 mm.
Colouring: In attractive original wash colours.
Condition: With original full hand colour, on fine wove paper watermarked 'Pietro Miliani Fabriano', size of the sheet 570 x 800 mm.
Description
This large-format of southern Germany centered on Regensburg and western Austria, with tip of Lake Constance to the left.
The map is finely engraved and beautifully coloured and was prepared by Girolamo Petri, a lawyer who served as a senior official within the Vatican's State Secretariat, the arm of the Holy See responsible for managing its relationships with foreign powers.

The map show the various dioceses, which are each distinguished by their own bright colours, marking their seats, as well as other major towns. While key geographical features are expressed throughout, the map are otherwise intentionally rather sparing of detail, so as not to visually detract from their purpose, which is the show the ecclesiastical divisions.
The uncommonly beautiful map was published in only a very small number of examples for the exclusive use of Cardinals and high-ranking administrators, accounting for the great rarity today.

Petri was commissioned by the Pope Pius XI (reigned 1846-78), the longest ever reigning pontiff, to create an atlas during at time when the Church was under siege within Europe, but, conversely, while it had major ambitions for expansion overseas, particularity in Asia and Africa.

Girolamo Petri (1806 - 1871) was an important figure in the administration of the Roman Catholic Church during the reign of Pius IX. Petri was a great enthusiast of cartography, and it was only fitting that Pius IX charged him with creating the magnificent atlas, L'Orbe Cattolico.

In creating the atlas, Petri noted that he drew only upon the "most trusted sources", including maps from the Vatican archives and overseas dioceses. The atlas was by far and away the finest ecclesiastical atlas created during the 19th Century, featuring exceptionally beautiful examples of thematic cartography.