PICHON, R. (Workshop). - (Art déco gouache)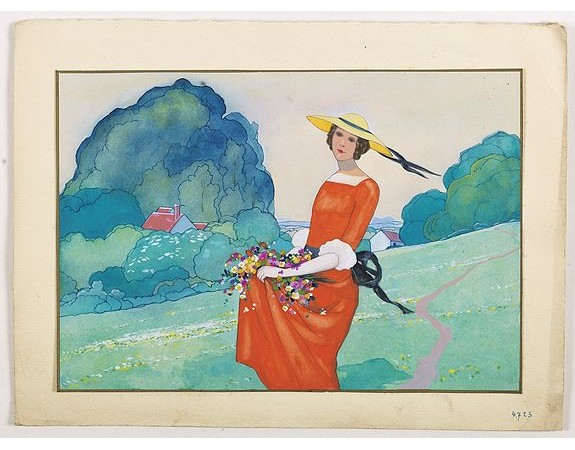 PICHON, R. (Workshop). - (Art déco gouache)
Date: Paris, ca. 1930
Size: 225 x 320 mm.
Colouring: In attractive strong original colours.
Condition: Original gouache fixed on a larger sheet (280 x 385 mm) with number 4723 in black ink in lower margin.<br /> In excellent condition and well preserved because of the protective sleeve.
Description
Outstanding "art deco" gouache (unsigned) from the workshop of "Robert Pichon. Ateliers de Dessin et Lithographie – 10, rue Rochechouart – Paris.

The gouache depict a scene of an elegant woman in a valley, who just picked flowers, holding it in her dress. Colours are bright and fresh.
The workshop was specialized in graphic design for advertising and R. Pichon, active in the years 1910-1940, was working for the Lorilleux printing house for which he realized many models in the 1920/1930.
Pichon also worked frequently for the magazine Caractère and mainly for special Christmas issues.