PICHON, R. (Workshop). - (Art déco gouache)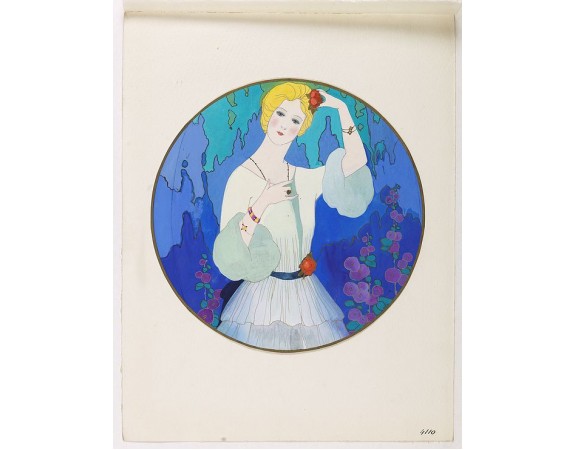 PICHON, R. (Workshop). - (Art déco gouache)
Date: Paris, ca. 1930
Size: 213 x 213 mm.
Colouring: In attractive strong original colours.
Condition: Original gouache fixed on a larger sheet (335 x 260 mm) with number 4110 in black ink in lower margin.<br /> In excellent condition and well preserved because of the protective sleeve.
Description
Outstanding "art deco" gouache (unsigned) from the workshop of "Robert Pichon. Ateliers de Dessin et Lithographie – 10, rue Rochechouart – Paris.

The gouache depict a scene of an elegant woman posing in a very nice dress. Colours are bright and fresh.
The workshop was specialized in graphic design for advertising and R. Pichon, active in the years 1910-1940, was working for the Lorilleux printing house for which he realized many models in the 1920/1930.
Pichon also worked frequently for the magazine Caractère and mainly for special Christmas issues.