SCHEDEL, H. - Destruccio Iherosolime.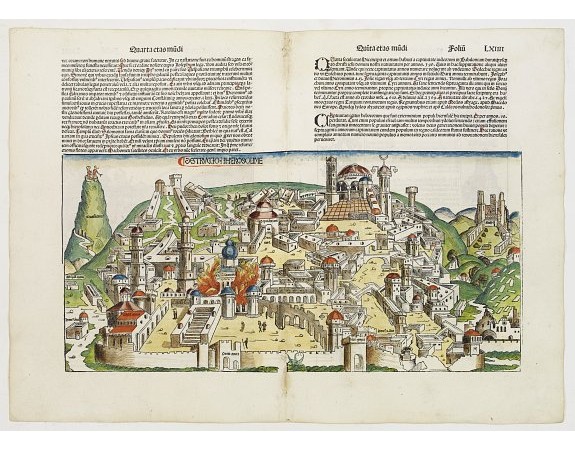 SCHEDEL, H. - Destruccio Iherosolime.
Date: Nuremberg, 12 July 1493
Size: 460 x 325 mm.
Colouring: Coloured.
Condition: 2 Wood cuts. Some usual minor age-toning along the center fold. A few stitch holes filled in. Very good.
Description
A dramatic woodcut that synopsizes the six destruction's of Jerusalem (255x528mm) and on verso a illustration of a punishment (140x222mm.)
One of the earliest obtainable view of this period.
Two pages from the richest illustrated Incunable, the famous: Nuremberg Chronicle , published the year that Columbus returned to Europe after discovering America.
The view shows the destruction of Jerusalem. Major points in the city are identified with Latin notations. Of interest, in the upper left of the image are two figures on a mountain top. One figure appears to be Christ: the other figure appears to be the Devil with horns drawn by a contemporary hand and also with a Latin inscription. Above the view are some twenty lines of Latin text. The verso shows various kings and prophets with descriptive text.
The woodblock cutters were Michael Wolgemut, the well-known teacher of Albrecht Dürer, and his stepson Wilhelm Pleydenwurff. Wohlgemut was Albrecht Dürer's tutor between 1486-90 and recent scholarship has shown, Albrecht Dürer may also have collaborated, since some of the cuts bear a remarkably close resemblance to the Apocalypse illustrations.
The printing was carried out under the supervision of the great scholar-printer Anton Koberger, whose printing were famous throughout Europe.
A opportunity to acquire a 15th-century book illustration by named artists.
See other items by this publisher: SCHEDEL, H.
Reference N°:

11248