ANONYME. - Jeu de l'Oie. Plateau de jeu inspiré du roman de Jules Verne, LeTour du Monde en 80 jours.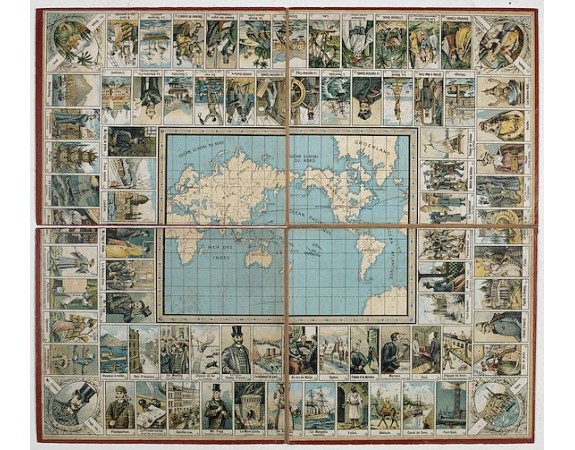 ANONYME. - Jeu de l'Oie. Plateau de jeu inspiré du roman de Jules Verne, LeTour du Monde en 80 jours.
Date: Paris, ca. 1880-1890
Size: 480 x 555 mm.
Colouring: Colour printed.
Condition: In good condition. Chromo lithographed plate on card board, folded in 4.
Description
Goose game board inspired by Jules Verne's novel whose boxes are illustrated with colour lithographs and the center occupied by a world map. Vignette illustrations numbered from 1 to 80, captioned in French and arranged counter clockwise.
The game block illustrates views of arrival in New York (64) and Statue of Liberty (65), Chicago, San Francisco. The diverse illustrations also include Hong Kong, Singapore, Yankees, Japanese, Calcutta, Bombay, etc.
The first two numbered blocks on the game board depict Phileas Fogg and his French assistant, Jean Passepartout, as they leave London.

Provenance: Eric André Weissenberg collection, which has been preserved at the Weissenberg Museum.
Eric André Weissenberg, born in Agen, France on March 11, 1941 and died in Geneva on October 30, 2012, is a Swiss vernien collector.
He is one of the most prolific authors of articles for the Bulletin of the Jules Verne Society (BSJV). From collections of editions of cartoons, mainly from Hetzel, which he accumulated throughout his life, he became a recognized specialist in the particular characteristics of the Hetzel volumes and for many years held the section of the collector of the BSJV. He also participates in the collection of Philippe Jauzac Jules Verne - Hetzel and cartonnages illustrated, published by the editions of the Amateur and is the author of Jules Verne: A fabulous universe (Favre, 2004) where he exhibits of many unpublished documents from its collections.

In addition, Eric Weissenberg was also a collector of documents related to the Holocaust.
See other items by this publisher: ANONYME.
Reference N°:

44918