BAL, H. - Sint Catharinakerk te Eindhoven.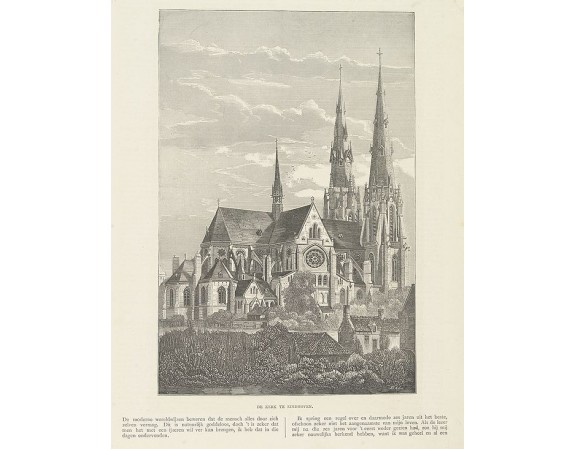 BAL, H. - Sint Catharinakerk te Eindhoven.
Date: 'sHertogenbosch 1880
Size: 160 x 260 mm.
Colouring: Uncoloured.
Condition: Wood engraving with letter press in Dutch.
Description
Uncommon wood block engraving of St.Catharina church of Eindhoven, built by the well-known architect P.Cuijpers. Published in Katholieke Illustratie.
The "katholieke illustratie (- zondags-lektuur voor het katholieke Nederlandsche volk)" was first published in 1866 by Henri Bogaerts in 1866. The magazine remained very popular until 1967. The early issues are illustrated with wood block engravings. Wood block engraving by Willem Bal, a wood block engraver who was born in Rotterdam, August 4, 1808 and who died in Delft, 16 January 1897. Autodidact, but became famous for his illustrations in medical and mathematic magazines.
See other items by this publisher: BAL, H.
Reference N°:

28814