BERNDT, J. C. - Delphinus.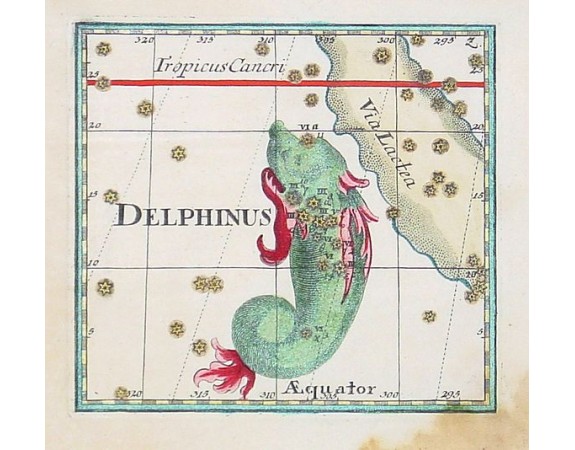 BERNDT, J. C. - Delphinus.
Date: Nuremberg, c.1780
Size: 117 x 125 mm.
Colouring: In attractive original colours.
Condition: Dark impression. Water stain in lower right margin, hardly affecting printed area.
Description
Uncommon celestial print showing the constellation of Delphinus, published by C.Thomas in the Mercurii philosophici firmamentum firmianum descriptionem et usum globi artificialis coelestis.
Individual zodiac signs of this period are uncommon, especially in full colour.
Thomas (1694-1767), a German Benedictine monk, was professor of mathematics and later theology at the University of Salzburg.
According to Warner, the artistic style, choice of constellations, and method of star identification used by Thomas was influenced by Coronelli, geographer and cosmographer of the Venice republic.
See other items by this publisher: BERNDT, J. C.
Reference N°:

11952