BLAEU, J. / MORTIER, P. / ALBERTS, R. - Pisa.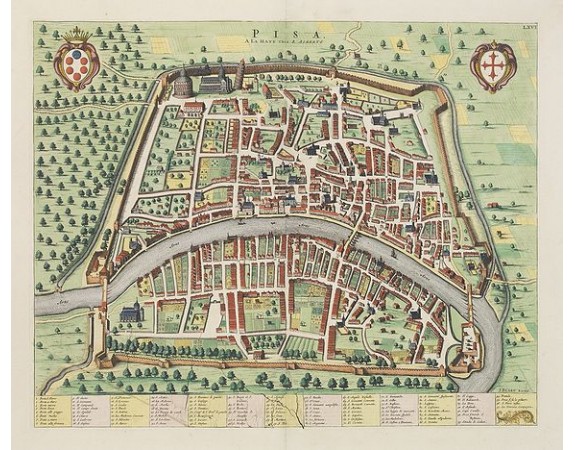 BLAEU, J. / MORTIER, P. / ALBERTS, R. - Pisa.
Date: Amsterdam, 1704 - 1705
Size: 415 x 520 mm.
Colouring: Coloured.
Condition: A nice and attractive impression, very attractive colours.
Description
A beautifully engraved and richly decorated plan of Pisa. With a key (1-97) in lower left corner referring to the principal places of interest in the town.
Joan Blaeu published during his life three town-books of Italy: Citta del Vaticano, Rome and Napoli. By the year 1672 a fire largely destroyed the main Blaeu workshop, and much of the prepared material. However, work on the town-book continued, and in 1682 the completed work was published in Amsterdam by the heirs of Joan Blaeu. The town-book was a great success and reissued several times by different publishers in Amsterdam, as late as 1726. Pierre Mortier re-issued all the Blaeu plates in the years 1704/05 in an atlas comprising four volumes. Now with the imprint of A La Haye chez R.Alberts.