BLAEU, W. - India quae Orientalis.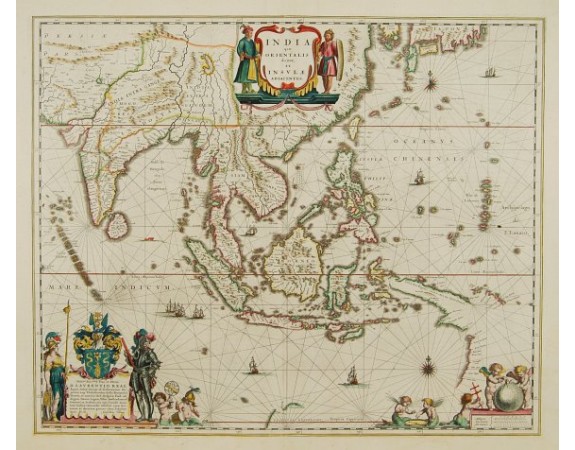 BLAEU, W. - India quae Orientalis.
Date: Amsterdam, 1645
Size: 410 x 503 mm.
Colouring: Original colours.
Condition: A fine copy. With French text on verso.
Description
The map covers the area from India to Japan, with the East Indies, with good detail in
Philippines
. In the upper right corner the southern tip of Korea is shown, and marked "Corea insula".
It was the first popular map to depict part of Australia (together with New Guinea) i.e. at bottom right the west coast of Carpentaria and the NW top of Australia with the following names: 't Hoge Landt, Rivier van Speult, Rivier Batavia, Water plaets, Rivier Coen, Vereenighde Rivier, Rivier Nassau, Staten Rivier, G.F.de Wits landt, Willems Rivier, 't Landt van D'Eendracht.
The map was published by Joan Blaeu at the time he was the official mapmaker of the Dutch East India Company (
VOC
).
With a dedicational cartouche to Laurens Real, who the Governor-General in the East Indies for the VOC. from 1615-1619, it was Real who introduced slave labour into the nutmeg plantations on Amboina in the East Indies.
See other items by this publisher: BLAEU, W.
Reference N°:

00774