DE FER, N. - Petit et Nouveau Atlas.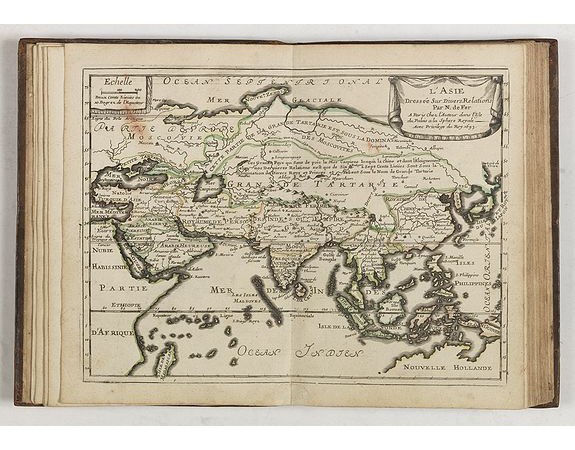 DE FER, N. - Petit et Nouveau Atlas.
Date: Paris, 1697
Size: 137 x 177 mm.
Colouring: Uncoloured.
Condition: Contemp. Brown calf. Paper slightly age toned, a dark impression and generally in very good condition.
Description
First edition of Nicolas de Fer, Petit et Nouveau Atlas, was republished in 1705 and 1723. Maps engraved by C. Inselin, Jean Baptiste Lie ebaux, and H. v. Loon. Atlas consists of pictorial, engraved title page signed: N. Guerard in. et fecit. Most maps engraved by C. Inselin, the same engraver who engraved the maps in De Fer's later Atlas Curieux, published 1700-1705. Unlike the more common Atlas Curieux with a single map of the Western Hemisphere, de Fer's Petit et Nouveau Atlas contains separate maps of North America and South America. The map of North America, dated 1693, shows California as an Island with an indented northern coast and no place names, but labeled Isle de Californie. Pastoureau, Fer XIIa. McLaughlin / Mayo 111.
See other items by this publisher: DE FER, N.
Reference N°:

41514