DE JODE, C. - Comitatus Venayscinensis Nova Discriptio.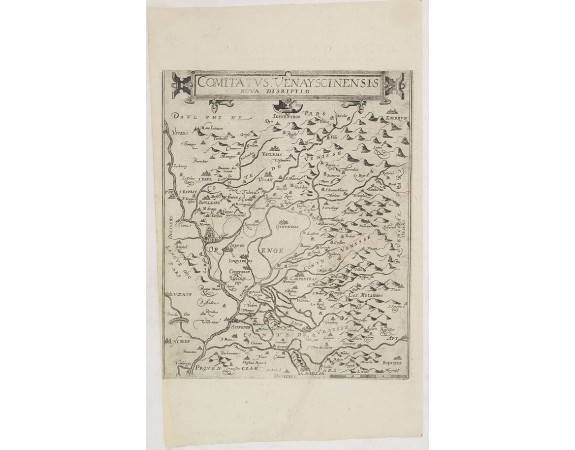 DE JODE, C. - Comitatus Venayscinensis Nova Discriptio.
Date: Antwerp, 1593
Size: 300 x 242 mm.
Colouring: Uncoloured.
Condition: Very good and dark impression. Left margin cut close to plate mark. Professional repair of tear in the lower right side, 8,5 cm into the engraved area.
Description
Rare map depicting part of Provence with Avignon, Cavaillon, Orange, Carpentras, etc.
Gerard De Jode was the great rival of Ortelius, both made a living out of selling maps, and it seems not always on good terms. It is probable that Ortelius was responsible for a delay in the publication of Gerard de Jode's Speculum. Gerard De Jode, 18 years older than Ortelius, owned many more copper-plates for maps than Ortelius had. Ortelius did not employ highly paid engravers as De Jode had done.
De Jode received the ecclesiastical imprimatur in 1573, but it was not until 1579 that the first copies of the Speculum were sold at Plantin's shop, and only very few copies were sold. Now-a-days only a few atlases from the first and only edition are known to exist. Also single leaves are an utmost rarity.
After the death of Gerard in 1591, the business was carried on by his widow and his son Cornelis, who re-issued the Speculum in 1593, most plates were newly engraved.
See other items by this publisher: DE JODE, C.
Reference N°:

30703