DE ROSSI, G. - Penisola Dell India di la dal Gange Diusa ne i Regni, che in essasi contengono et accresciuta di varie notizie. Da Giacomo Cantelli da Vignola e conforme le Relationi di alcuni Padri della Compa di Giesu di Monsu Tavernier . . . 1683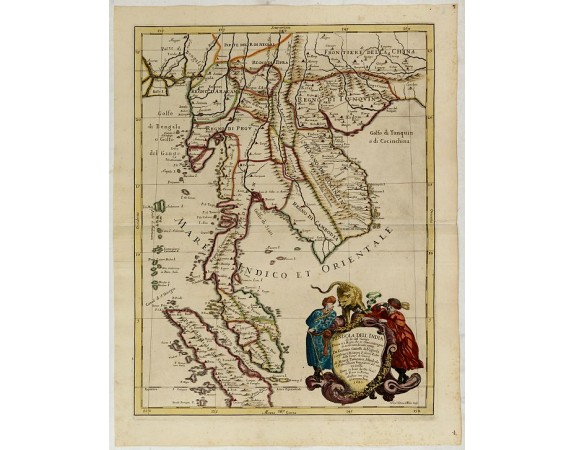 DE ROSSI, G. - Penisola Dell India di la dal Gange Diusa ne i Regni, che in essasi contengono et accresciuta di varie notizie. Da Giacomo Cantelli da Vignola e conforme le Relationi di alcuni Padri della Compa di Giesu di Monsu Tavernier . . . 1683
Date: Rome, 1683-1688
Size: 540 x 418 mm.
Colouring: In attractive colours.
Condition: Some very minor marginal spotting. Dark impression. Very fine.
Description
Giacomo Rossi's fine late 17th century map of Malaysia, Thailand, Cambodia and part of Sumatra.. Engraved by Franciscus Donia. Issued in
Il Mercurio geografico
In lower right corner a tittle cartouche.
The cartographer was Giacomo Cantelli da Vignola (1643-1695) who was active in Modena in Italy.
. The principal settlements, mountain ranges and rivers are shown in detail.
Read more about
Giovanni Giacomo De Rossi
.