HONDIUS, J./ PURCHAS, S. - Guinea.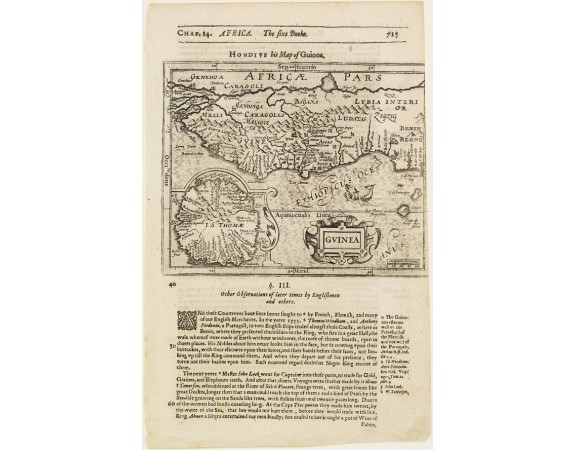 HONDIUS, J./ PURCHAS, S. - Guinea.
Date: Londres, 1645
Size: 148 x 182 mm.
Colouring: Uncoloured.
Condition: Right hand side unfortunately running of the page, as issued. With a English text on recto and verso. A good and dark impression.
Description
Samuel Purchas' edition of the Mercator/Hondius Atlas Minor . Map of Guinea published in his famous collection of voyages His Pilgrimes . With descriptive text in English on both sides. Size of paper: 32x21cm.
Jodocus Hondius' map of Guinea is probably the most attractive map of this area. An inset with a elaborate strapwork border depicts the island of S. Thomas.
In 1625 Samuel Purchas published His Pilgrimes which is one of the fullest and most important collections of voyages and travels in the English language. These four volumes comprised details of the major voyages of discovery and exploration to that date and were accompanied by many maps from the Atlas Major by Mercator-Hondius.
A rare issue.