HORNIUS, G. - Hornius Map of the Holy Land, Israel, and Palestine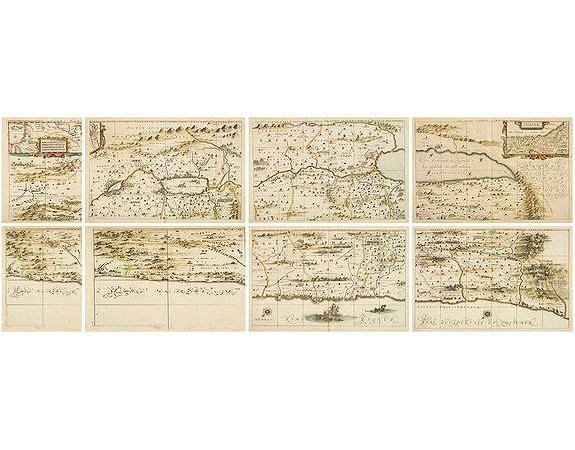 HORNIUS, G. - Hornius Map of the Holy Land, Israel, and Palestine
Date: Amsterdam, Janssonius, 1662
Size: 437 x 706 mm.
Colouring: Coloured.
Condition: Six part map of the Holy Land, here still unjoined on 7 sheets.
Description
A fine example of the six sheet map by Georgius Hornius map of the Holy Land. Each of the maps is embellished with countless vignettes and other images drawn from Biblical tradition.
From about 1640 Georg Horn (1620-1670) – after he had studied in Nuremberg and at the academy in Altdorf – worked as a private teacher in the Netherlands and in England. 1648 he became professor for history, politics and geography in Harderwijk, 1653 professor for history in Leiden. He wrote many articles about history and geography. His textbook on history he wrote in Latin had been used for many years, even after his death.