JANSSONIUS, J. - America Septentrionalis.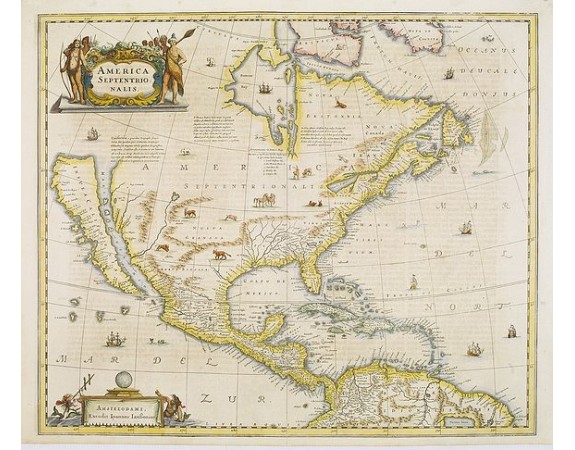 JANSSONIUS, J. - America Septentrionalis.
Date: Amsterdam, 1647
Size: 464 x 550 mm.
Colouring: In original colours.
Condition: Some minor shinetrue of text. Paper very slightly age-toned. Repair of split lower part center fold, 2cm. into engraved area. In very good condition.
Description
Showing California as an island, and above, the north west of the continent left blank except for two legends explaining the discoveries to that date. The Hudson Bay is called Buttons Bay, and the St Lawrence flows from Lake Iroquois, the only Great Lake to be shown.
This important map was the first issued in a Dutch atlas to concentrate solely on North America and show California as an Island. In Nova Anglia three lakes are depicted. Other cartographers of that time followed the older map by Champlain, making this map an important precursor for the mapping of the region. The issue of the map has German text on the reverse.
Reference: Goss, The mapping of North America,p.72; Karpinski, Maps of famous cartographers depicting North America, p.89. Tooley, The mapping of America, p.311.