LONDON ADMIRALTY. - China Sea Philippine Islands - San Bernandino Strait and approaches. (3370)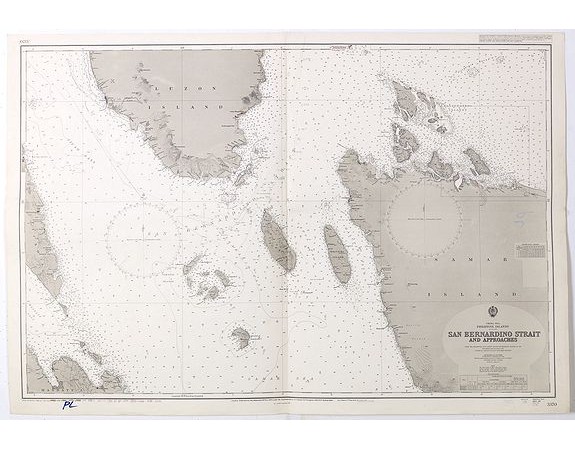 New
LONDON ADMIRALTY. - China Sea Philippine Islands - San Bernandino Strait and approaches. (3370)
Date: London, 1924 / 1996
Size: 633 x 980 mm.
Colouring: In original o/l colours.
Condition: Paper age toned, a few minor age toning and signs of use. With corrections in red ink. Size of sheet 710 x 1040 mm.
Description
A highly corrected version of Admiralty chart 3370 originally published 14th November 1924 under the Superintendence of Captain H.P. Douglas. Edition Date 1982 with further correction up to 1996.

Detailed chart of San Bernandino Strait and approaches.

The charts published by the Hydrographic Office of the Admiralty in London represent well both cartographic history and also the history of European naval technology and surveying techniques. The concise coastal surveys were compiled to meet the naval demand for the most contemporary description, water depth, land elevation and directional readings.
The engraving is very clean and crisp fashion which is indicative of the English style of mapmaking. For those interested in the mapping of the Philippines as well as naval history, this chart serve as wonderful examples of both areas of study.