MALLET, A.M. - Decouverte de la Groenlande.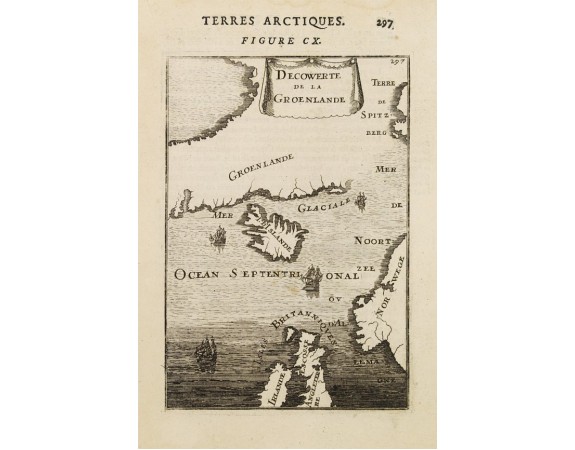 MALLET, A.M. - Decouverte de la Groenlande.
Date: Paris, 1683
Size: 150 x 103 mm.
Colouring: Uncoloured.
Condition: Some age-toning of paper. Minor water staining along upper and right margin. Hardly noticeable brown spots in the centre of the map. Else very good condition and dark imprint.
Description
An interesting miniature map centered on Iceland and outlining most part of Greenland. Northwest on top. It includes Norway and great part of the British Isles.
The sea is fully engraved and 4 ships are shown heading northwards to the Greenlandic Shores.
From the French text edition of
Description d'Univers..
. By Allain Manneson Mallet (1630-1706), a well traveled military engineer and geographer who worked in 17th century France under King Louis XIV.
Read more about
Manesson Mallet
[+]
See other items by this publisher: MALLET, A.M.
Reference N°:

22569