MERIAN, C. - La Fere. Estaples.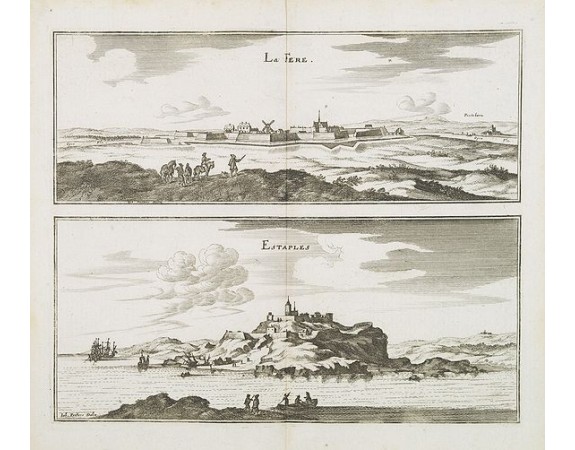 MERIAN, C. - La Fere. Estaples.
Date: Francfort/Main, 1655
Size: 140 x 310 mm.
Colouring: Uncoloured.
Condition: Légèrement jauni dans les marges.
Description
Two views printed on two separate plates of la Fere et Estaples in Nord, France. Both prints are very well engraved with excellent detail.
La Fere's fortifications underwent a drastic change in the 16th century because of the development of cannon. Medieval walls provided their best protection when they were high, to prevent escalades. When the French dragged all their cannon into Italy in 1494, they brought those walls down like they were made of children's blocks. The new fortificiations against artillery are low, slanted, and wide, backed by earth to absorb cannon-shot. They are punctuated with very angular bastions, which allow the defenders to mount cannon and arquebusiers to provide intersecting covering fire in front of the walls. The walls themselves are surrounded by a glacis -- a wide, low, rising slope. Between the glacis and the main wall was a trench, and both the glacis and wall were backed with banked earth and stoneworks.
From Merian's Topographia Galliae. . . .
See other items by this publisher: MERIAN, C.
Reference N°:

27264