ORTELIUS, A. - Maris Pacifici.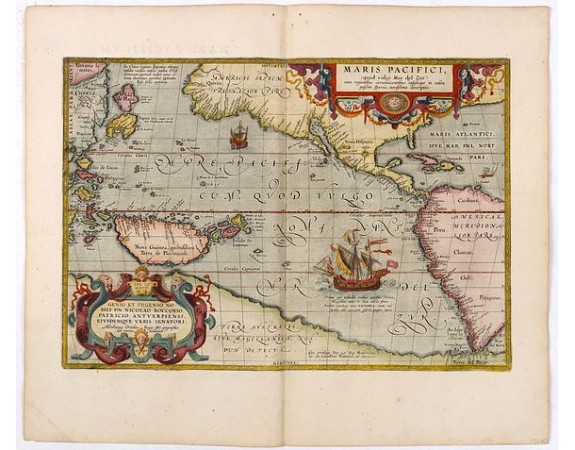 ORTELIUS, A. - Maris Pacifici.
Date: Antwerp, 1590-1603
Size: 344 x 498 mm.
Colouring: Coloured
Condition: Very good condition. Very good impression. Latin text on verso.
Description
This was the first printed map to be devoted solely to the Pacific, and the first to name North and South America separately. It includes most of North and South America, with a vast Terra Australia Sive Magellanica Nondum Detecta which slopes north sharply to join with Java a myth started by Mercator, who had misunderstood Marco Polo. It was also the first map to depict the islands of New Guinea and Japan as being closer to Asia than America, although the Pacific is still many degrees too narrow, a mistake that continued partly out of the desperate desire of many sailors to sail west to the Indies. Japan in the
turtle-shape
and a large Isla de Plata above.
He has corrected the width of America considerably, so that it is now quite narrow on the Tropic of Capricorn and, as Wagner points out, this has the effect of moving the peninsular of California, correctly, to the east.
Ortelius used Spanish manuscripts to correct many of his misconceptions about America, but it is unclear what his sources were for some of the other corrections.
¤
See other items by this publisher: ORTELIUS, A.
Reference N°:

35751