WHITE, R. T. - Philippines Islands.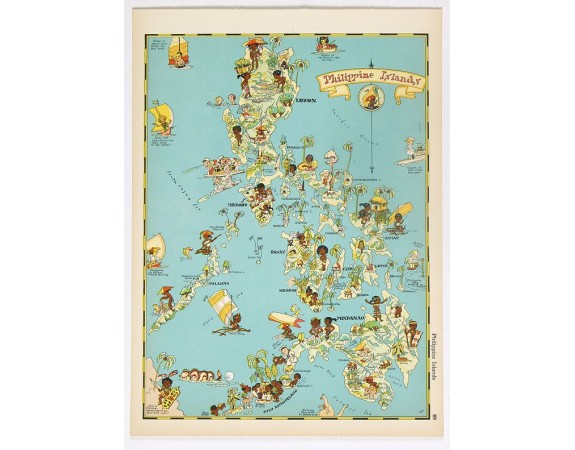 New
WHITE, R. T. - Philippines Islands.
Date: Boston, Little, Brown and Company, 1935
Size: 293 x 215 mm.
Colouring: Colour printed.
Condition: Very good condition. Descriptive text of Rhode Island on verso.
Description
Pictorial map of Philippines Islands, from the famous illustrator, Ruth Taylor White and published in "Our USA: A Gay Geography".
Ruth Taylor White was among the most prolific makers of pictographic maps. Her whimsical style combines her artistic skills with local colour and flavour, making her maps among the most collected pictographic maps.
Born in 1899, Taylor and her family, like many, headed persistently west in the late 19th century, moving from East Coast to West in the span of about 20 years and finally settling in California.
In the Spring of 1930, she left the kids at home in California and spent five weeks in Hawaii. Her trip was likely prompted by a commission from the Hawaii Tourist Bureau to draw the maps of the Hawaiian islands.
Our USA: A Gay Geography, published in 1935, was an atlas filled with whimsical and charming maps of all the states in the union, as well as American territories. The New York Times said in their review, 'Any one who remembers his childhood efforts to visualize Kentucky as something more than the green spot on the map, or New York as the pink State, will appreciate this volume. Brilliantly coloured pictorial maps of the same order which have been amusing adults for the past decade show the United States and their Territories as active, picturesque entities.' (NYT, 17 Nov 1935). This book is very tough to find these days, even in libraries.