BLAEU, W. - Bituricum Ducatus. Duche de Berri.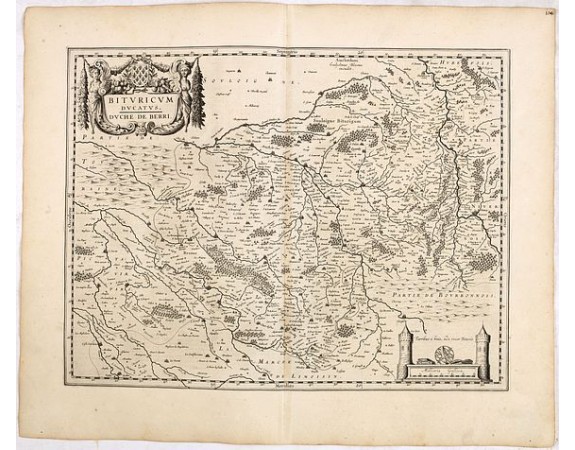 BLAEU, W. - Bituricum Ducatus. Duche de Berri.
Date: Amsterdam, 1634
Size: 380 x 498 mm.
Colouring: Uncoloured.
Condition: Wide margins, good impression. German text on verso.
Description
A very decorative map with beautiful cartouches of a province of France is produced by one of the most famous Dutch map publishers during the seventeenth century.
Berry is a centrally located region of France, notable for being the birthplace of several Kings of France and other nobility during the Middle Ages. The capital was Bourges. The region now consists of the departments of Cher / Indre and part of Vienne. Also the Duchy of Berry.
This finely engraved map is enhanced by a decorative title cartouche in the upper left corner, and a mileage scale in the lower right corner.

From an incomplete example of the 1634 German text edition of Blaeu's "Novus Atlas", previously owned by Johann Christoph Gesen (1639), Johann Rudolph von Metzradt (1651), Friedrich August II, King of Saxony (1797-1854).
P. van der Krogt mentions two variants for the German 1634 text edition and only two examples containing proof states (Bad Münstereifel and Gotha).
See other items by this publisher: BLAEU, W.
Reference N°:

36045