BLAEU, W. - Mappa Aestivarum Insularum alias Barmudas.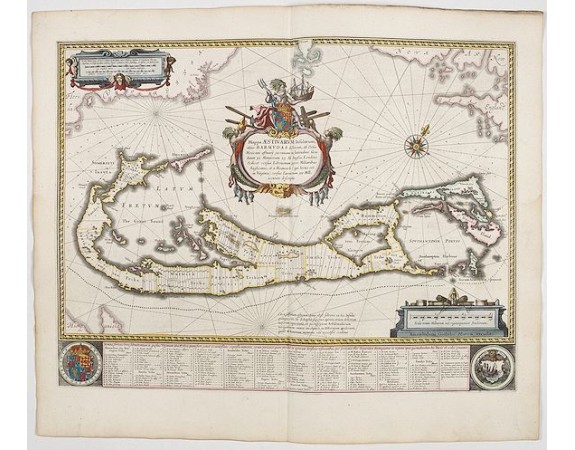 BLAEU, W. - Mappa Aestivarum Insularum alias Barmudas.
Date: Amsterdam, 1644
Size: 403 x 532 mm.
Colouring: In attractive strong original colours.
Condition: A good and dark impression. Some very light outer marginal water stains Generally in excellent condition.
Description
Blaeu based his work on John Speed's remarkably accurate map of 1626-1627. It shows the island divided into tribes and lots, and below the map itself appear the names of the first proprietors and the number of shares assigned each.
A splendid cartouche shows Neptune astride the Royal Arms holding a ship. The miniature map below the cartouche shows the correct proportion of the island to the coast of the mainland. Further adorned with scale cartouches, coats of arms and compass rose with a fleur-de-lys.
The map is superimposed over a map of the Atlantic with the coastlines of Britain, North America and Hispanola showing the location of Bermuda.
From early on Willem Jansz. Blaeu aimed of publishing an atlas to compete with the Hondius-Jansson Atlas. By 1630, he had published at least 17 folio size maps.
Blaeu was able to realize his plan soon after he had acquired the copper plates of the atlas maps by Jodocus Hondius. The "Appendix followed in 1630.
In 1635 he finally realized a "international edition" of a world atlas, the "Theatrum Orbis Terrarum".
More about
Willem Blaeu.
[+]
See other items by this publisher: BLAEU, W.
Reference N°:

45166