BLAEU, W. - Nova Virginiae Tabula.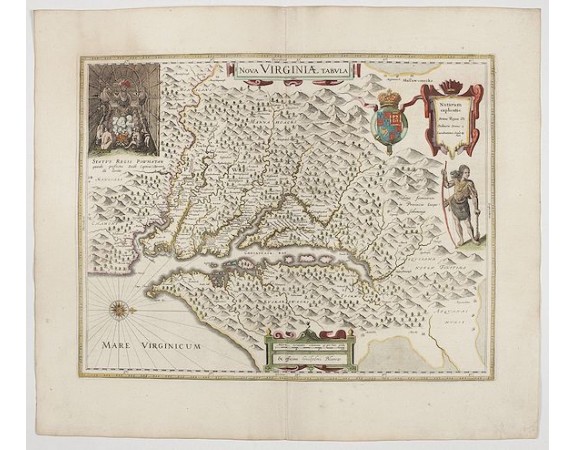 BLAEU, W. - Nova Virginiae Tabula.
Date: Amsterdam, 1644
Size: 375 x 482 mm.
Colouring: In attractive original colours.
Condition: Generally very good. A few stains on verso. French text on verso.
Description
The map is based on the first state of Smith's map, 1612, and is slightly larger and more expertly engraved. In 1629 the Hondius plate was purchased by Blaeu who deleted Hondius' name and added his own to the imprint, constituting the second state. The map is, in part, famous for its depiction, upper left, of Chief Powhatan, waving his tobacco pipe, and seated, as the caption says, in state when Capt. John Smith was delivered to him prisoner . Smith was unusual among early mapmakers in acknowledging the assistance of native American informants. Maltese Crosses designate areas on the map based on this help.
See other items by this publisher: BLAEU, W.
Reference N°:

45271