CORONELLI, V. M. - Bocche del Fiume Negro et Isole di Capo Verde.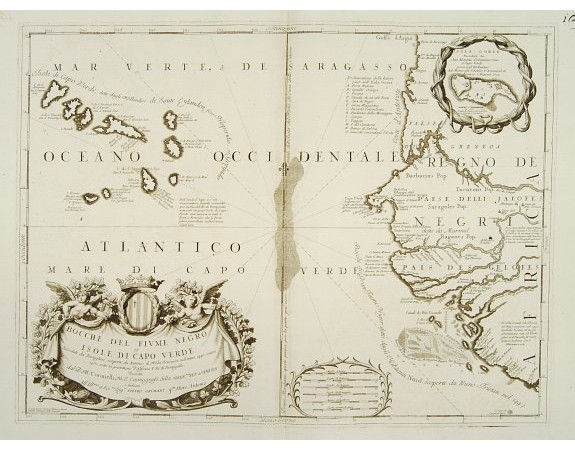 CORONELLI, V. M. - Bocche del Fiume Negro et Isole di Capo Verde.
Date: Venice 1690
Size: 455 x 605 mm.
Colouring: Uncoloured.
Condition: In very good condition.
Description
Double-page engraved map of the Cape Verde Islands and part of the coast of Senegal, with large decorative cartouche. One with inset of the island Goree.
During three centuries, a large number of Africans where reduced to slavery and shipped, from the island of Goree on direction to the American continent. The famous slave house, one of the most visited museum in Senegal, still conserves all the reality poignant of that period in world history.
In turn occupied by the Portugal, the Dutch ( V.O.C. ), the French and the English that gave it to the French 1817, Goree was a required stop over for the European ships in destination to America or Asia. With the abolition of slavery in 1848, the decline of the island was certain, especially with the creation of Dakar in 1857 and Rufisque in 1859.
From Coronelli's rare Atlante Veneto, one of the most decorative and ornate of all 17th century atlases. Engraved in Coronelli's unique style
The remarkable Vincenzo Coronelli (1650-1718), encyclopaedist, geographer, inventor and Doctor of Theology, was citizen of the Republic of Venice. He was also one of the most prominent mapmakers and publishers in Europe of his day.